Gary Bettman has been NHL commissioner for 20 years
Gary Bettman has been NHL commissioner for 20 years as of Tuesday, and the third lockout of his watch is still going strong. So here is video hockey fans booing him over the years.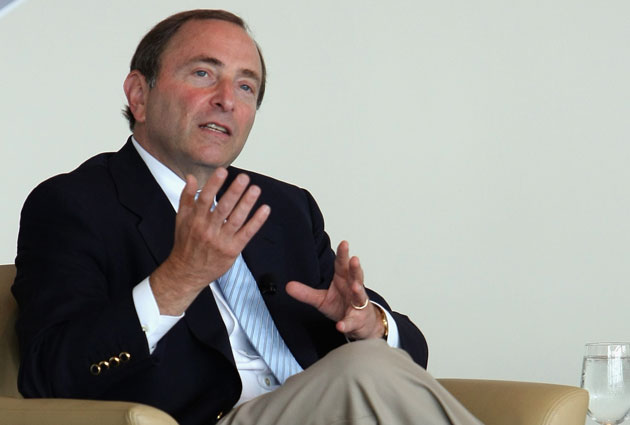 Tuesday is Gary Bettman's 20th anniversary as NHL commissioner. (Getty Images)
Tuesday is a big day for Gary Bettman as he celebrates his 20th anniversary as NHL commissioner.
It was Dec. 11, 1992, when the NHL board of governors confirmed him as the league's first commissioner, and what a ride it's been ever since.
No matter what happens for the rest of his time as the NHL's top man, he will forever be remembered for the three lockouts that have taken place during his watch, whether they're all his doing or not -- and the NHL's owners, and yes, even players, certainly have to share quite a bit of blame. That includes the current one, which has cost the league 526 regular season games during what should have been the 2012-13 season.
Add that total to the previous two lockouts, including the 2004-05 work stoppage that eliminated the entire season, and the NHL has missed 2,224 regular season games over 511 (and counting) days during Bettman's watch. No other sports league has missed more than 938 regular season games over that same time period. Impressive track record.
Bettman has never been popular among hockey fans, and to prove that, here is video of them relentlessly booing him over the years.
The NHL has changed quite a bit over the years under Bettman's watch. We no longer have tie games or the two-line pass. We do have shootouts, the trapezoid, the loser point in the standings, and the Winter Classic (well, not this year).
The league went from 24 teams in 1992 to 30 in 2012. NHL hockey is now played in every corner of North America, including cities like Denver, Columbus, and Phoenix, but is no longer played in Hartford or Quebec.
Winnipeg lost a team and gained another; ditto Minnesota. Atlanta gained a team and lost it.
Regarding all of the expansion, that's one area Bettman gets a bit too much criticism for (the expansion into the southern and western markets) as that was starting to take place well before he was named commissioner. The league was already expanding into those areas and it was going to continue taking place whether Bettman was commissioner or not.
Teams like Tampa Bay and San Jose were already in existence, the Minnesota North Stars already had one foot out the door, and the Florida Panthers and Anaheim Mighty Ducks were on the verge of becoming a reality.
For more hockey news, rumors and analysis, follow @EyeOnHockey and @agretz on Twitter and like us on Facebook.
Show Comments
Hide Comments
Stevens was L.A.'s interim coach for four games in the 2011-12 season

Series schedules, results and updates from the first round of the Stanley Cup race

St. Louis, New York and Edmonton eked out victories that eliminated Minnesota, Montreal and...
Fresh off the Predators' sweep of the Blackhawks, Gnash is fired up for his team

A tougher opponent awaits either Toronto or Washington, and the Bruins hung on to beat Ott...

Linesman Don Henderson is reportedly seeking $10.25 million in damages from a January 2016...