George Parros released from hospital with a concussion
Canadiens enforcer George Parros is out of the hospital, released on Wednesday morning with a concussion after his scary fall Tuesday night.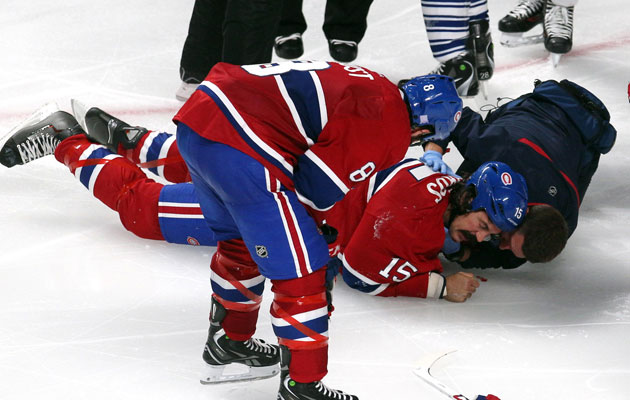 NHL previews: Atlantic Division | Metropolitan Division | Central Division | Pacific Division
Canadiens forward George Parros was released from a Montreal hospital on Wednesday morning, diagnosed with a concussion.
Given what transpired on Tuesday night, that would qualify as great news. Parros was taken off the on ice on a stretcher and sent to the hospital after he fell face-first onto the ice in a fight with Colton Orr on Tuesday night. It was a terribly scary moment in the season's first game.
Now Parros is out indefinitely with the concussion but really it could have been so much worse. The Habs will undoubtedly be cautious in bringing Parros back into the fold. Accident or not, it was a violent collision and was a little more than the old "getting your bell rung."
The fight was Parros' second of the night against Orr, the two big combatants for each side being long-time fighting foes. In total the Leafs and Canadiens dropped the gloves for five separate fights.
Parros was brought to Montreal this summer as part of the Canadiens' attempts to get bigger and more physical, presumably done partly to match their rivals from Ontario in the heft department. A quasi arms race has begun in the new Atlantic Division and Parros was part of the Habs' answer to that.
Show Comments
Hide Comments
Series schedules, results and updates from the second round of the Stanley Cup race

St. Louis connected on one of five power plays to tie the series while Anaheim loses again...

Ottawa's defense came up big in Game 1 to beat New York, and the Penguins beat the Capitals...
Subban had three points in Nashville's 4-3 win over St. Louis in Game 1, while Edmonton dropped...

Washington and Pittsburgh figure to go neck and neck, as do Anaheim and Edmonton

Cassidy went 18-8-1 after replacing Claude Julien in 2016-17