GIFS: Alex Ovechkin, Jack Hillen collide in overtime
Capitals defenseman Jack Hillen had to leave the game in overtime on Tuesday night after colliding with Alex Ovechkin in the neutral zone. A brutal collision.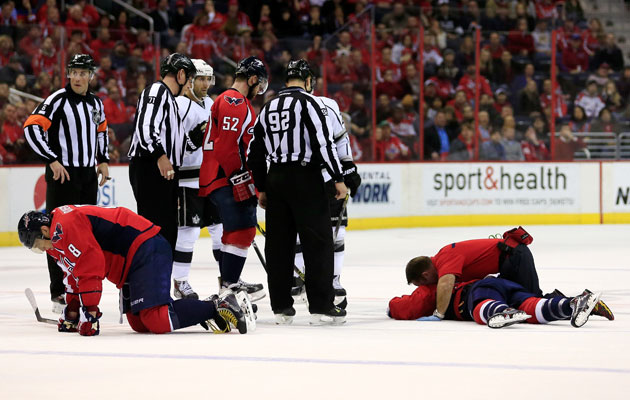 More NHL: Trades | Scores | Standings | League Leaders | Odds  | Power Rankings
Alex Ovechkin is more than a goal scorer. He's also a big power forward who can really lay some big hits. Unfortunately his teammate Jack Hillen found that out in overtime on Tuesday.
After the Caps scored short-handed late in regulation to force OT, each team was cut down to four skaters a side. Still, it wasn't enough ice for the two to avoid each other in the neutral zone with Hillen carrying the puck.
And here's a slow-mo version from in closer. Ouch.
Hillen remained face down on the ice for a minute before slowly getting up and off the ice. Ovechkin was shaken up from the hit too and was slow getting up but he did return for his next shift.
It's always a bit dangerous to guess but it sure looked like Hillen could be dealing with a concussion after that shot and considering the Capitals' biggest issue right now is on the blue line, that would be pretty bad news.
The Caps did lose the game in the shootout to the Kings but still picked up one valuable point to move into a tie for the last playoff spots.
Pittsburgh Penguins' repeat Conn Smythe Trophy winner has more than hockey on his athletic...

Russian outlets suggest Olympic participation is still on the table, but NHL has repeatedly...

Buffalo's forward suits up in Da Beauty League as he prepares to return to Sabres in 2017-...
Penguins goalie shows support for Thunder Bay's Gavin Currie

Sports Illustrated's 2017 ranking puts the two hockey stars in the top 15 of stylish athle...

The former Blues and Capitals defenseman will wear No. 22 in the Big Apple