Glen Sather says lot of interest in Brian Boyle, updates Stepan talks
Rangers GM Glen Sather says he has received a lot of requests for Brian Boyle but has no interest. Plus, he updated the Derek Stepan talks.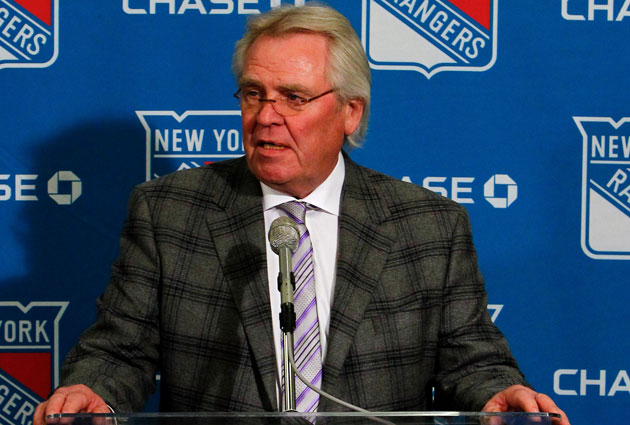 More NHL offseason: Rumors | Top 50 Free Agents | Buyout Tracker | Trades | Transactions
New York Rangers general manager Glen Sather usually stays pretty quiet. When he's not busy smoking cigars, he keeps a pretty low profile, especially when he still has work to do this summer in needing to re-sign Derek Stepan still.
When he does talk, though, Sather is usually pretty straightforward and honest. Such as when he went on Edmonton's Team 1260 to discuss an array of topics from Oilers memories to he Rangers today. Included in that was a question about any trade interest in a guy like Brian Boyle.
"I've had a lot of requests for Brian's services," Sather said. "I'm not anxious to trade him. I think he's a good player, he's a great team guy and I think he has still an upside to go to. He's one of those guys you may regret trading if you do trade him so I'm not anxious to do anything with him at this time."
Interesting that there has been interest expressed to Sather about Boyle, just as interesting to me that Sather would admit as much. Typically GMs stay very hush-hush on such things, it's not often we get to see behind the curtain, especially while the moment is still here (that is to say in this case that Boyle is still with the Rangers).
Boyle is coming off a very rough season in which he only had two goals and three assists in 38 games for the Rangers, a big step back back from the 35 points two seasons ago or even the 26 points in 2011-12. There must be a few people out there who think he has a rebound in him coming with Alain Vigneault in charge now, including Sather. That or they just love his size as a 6'7 forward.
Sather also discussed a few other issues including Stepan. Right now perhaps one of the holdups is that the Rangers don't want to give him any term on a new deal. Sather explained that they almost always give players coming off entry-level deals "gap" contracts where the next year or two they will get a long-term extension.
Finally, Sather addressed the suggestions that John Tortorella was essentially kicked out by the Rangers players. He was pretty clear about something: that didn't happen.
"It's not true that the players came to me," Sather said. "Once something gets some legs pretty soon it gets a life of its own but it's not true. I wouldn't allow a player to come to me and say 'we don't like the coach any more, he's got to go,' because that's not how it works."
Instead of mutinous behavior, Sather mentioned a stymied offensive approach as a reason for the change mor than anything else. Sather doesn't seem to talk much but maybe he should, that kind of candor is always interesting.
S/t to NYRangers blog
Show Comments
Hide Comments
Our Latest Stories
The Penguins' leader in highlight reels has been extra feisty on some cringe-worthy cheap shots...

2017 SAHP NHL Global Series will pit Ottawa and Colorado against each other in Stockholm

Finland has churned out some winners in a league filled to the brim with diverse players
From the Caps' goaltender to the star-studded headlining duo of Chicago's offense, these guys...

Scoring his 41st goal of the year in a 3-1 win over the Buffalo Sabres, the Pittsburgh Penguins...

A nightmare comes to life with Gary Bettman downplaying the idea of sending NHL stars to South...