Henrik Lundqvist still the King for Rangers when it comes Game 7
Henrik Lundqvist is always good, he's just way better in Game 7s. The last three games were all like a Game 7. No doubt, he's the biggest reason the Rangers are moving on.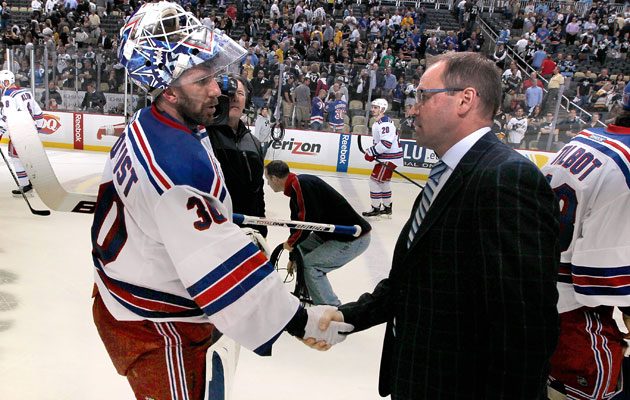 More NHL Playoffs: Schedule, TV listings | Expert Picks | Bracket | Scores | Odds
He is simply known as The King and he rules with a gloved fist.
Certainly the New York Rangers play a strong game as a team on Tuesday night but the best player on the ice in their 2-1 Game 7 win by a mile was Henrik Lundqvist. But you probably knew that already because that's nothing new for the Rangers.
There has almost been a fear that the Rangers were wasting Lundqvist. For so long now he has been their best player and has been deserving of going further in the playoffs than the Rangers have taken him. With their win in Pittsburgh, the Rangers are now headed to the conference finals for just the second time in the King's reign. You could say he's taking them there.
Lundqvist is just about always good, the kind of guy who rarely has off nights. But he's at his absolute best in the biggest games like Tuesday night. Really, just look at the numbers.
Lundqvist set an NHL record with a fifth consecutive win in a Game 7 on Tuesday night with his 35 saves on 36 Penguins shots, some very challenging saves included. Lundqvist's Game 7 career now looks made up. He is 5-1 with a goals against average of exactly 1.00 and a save percentage of ... .965. Let that number sink in for a minute.
OK good because we have another number to throw at you because Lundqvist's save percentage in that three games is somehow better. The biggest reason the Rangers were able to overcome this hole in the series was because Lundqvist appears to have convinced himself they were all Game 7. He stopped 102 of the last 105 shots the Penguins fired in this series, a save percentage of .971.
It's hard to believe numbers like that until you actually see the kind of saves Lundqvist was making at the tail end of this series, including this sequence with less than six minutes to go in Game 7. Without his stick.
Such poise in that moment and then the flip of the puck at the end of the play with some sass ... Lundqvist was in the zone.
Again, this isn't anything new, we all know that Lundqvist is good at hockey, and just good at life really. But that doesn't mean that he doesn't deserve the credit when he puts the team on his back and carries them out of the hole that was this series, one where the Rangers were looking so outmatched and almost uninterested halfway through.
The Rangers have been working on getting Lundqvist some offensive support and definitely that has improved some in recent years with their collection of big names on offense. But as long as the Rangers can get the series deep enough, Lundqvist clearly doesn't need much.
Pittsburgh also has been linked to Matt Duchene and could be in the mix for Tyler Bozak

Nashville extends its 24-year-old restricted free agent with what could be bargain numbers

Calgary forward is all for playing for the Flames, but he also likes the idea of going to...
Plans for renovating KeyArena are now also being overseen by NHL-to-Seattle hopefuls

With Leslie Anderson selling the Rockets, there is newfound hope for hockey in Houston

Pittsburgh Penguins' repeat Conn Smythe Trophy winner has more than hockey on his athletic...