Holiday gift-giving guide for your favorite NHL personalities
Christmas is just days away. Have you considered what your favorite NHL personalities might want this year? Eye on Hockey has some suggestions.
More NHL: Scores | Standings | League Leaders | Odds | Injuries | Power Rankings
So it's the holiday season and if you're anything like me, you're scrambling at the last minute to find the perfect gift for loved ones. But have you thought about what some of your favorite NHL players and personalities may want this Christmas? I bet you didn't.
So for all of you scrambling to figure out how to make the NHL bright this holiday season, Eye on Hockey is here to help with our first annual CBSSports.com Holiday Gift Giving Guide for the NHLer in Your Life.
Now we couldn't cover every angle and every player or coach, but here are some simple holiday solutions for some of the NHL's notable talents.
David Clarkson : Tim Horton's gift cards
Having lost nearly $400,000 in salary this year due to suspensions, you would hate for Clarkson to miss out on Timbits, right? Sure, he still has truckloads of money, but lose $400K of it and you might need to tighten the belt a bit. Making sure Clarkson doesn't skip his morning coffee might help him make better decisions, too.
Ryan Miller : A one-way ticket to literally anywhere else
The Buffalo Sabres are wasting a good year from Miller and he's not getting any younger. The 33-year-old has made it to the playoffs only four times in his career and it doesn't look like the Sabres will be back anytime soon. A trade or maybe even just a nice long vacation somewhere warm would do Miller some good. Of course, he could get to Sochi for the Olympics, like what he sees and just stay for a while. Either way, get this man out of Buffalo.
Brian Burke: A comb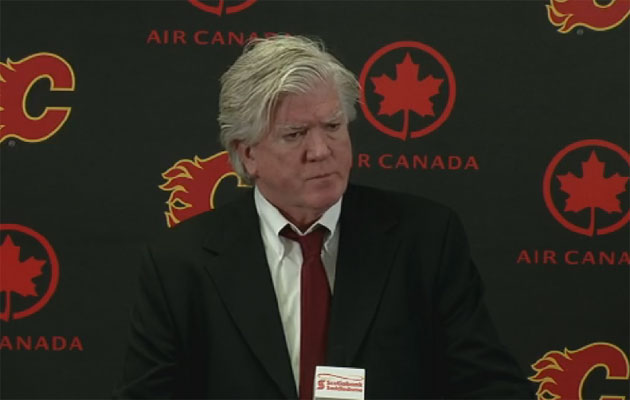 Only problem is you have to beat Burke's son Patrick to the punch on this one.
@mollysburke No I'm buying him a brush for christmas don't you ruin this.

— Patrick Burke (@BurkieYCP) December 12, 2013
Claude Noel: Ice packs
The only sure fire way to keep one's behind cool when firmly planted on the hot seat this holiday season. 
Pat LaFontaine: A general manager
The Sabres' new president of hockey operations and franchise legend hasn't yet hired a new general manager a month after owner Terry Pegula fired Darcy Regier. With the Calgary Flames now in the market for a GM, maybe ol' Patty LaLa shouldn't wait to see what Santa plants under his tree.
Brad Marchand : Mime classes
Marchand showed great promise with his pantomimed Stanley Cup raising in Vancouver. Perhaps he should explore that talent a little more in an official capacity.
Jeff Skinner : Furby
Because I'm still not entirely sure Skinner isn't 11 years old, this seems like the hot holiday item every year for kids his age.
John Tavares Help
John Tavares is really good at hockey, but not many of his teammates on the New York Islanders have been. So since he has to do it all on the ice, maybe you can give a little of your time this holiday season and maybe pick up his groceries or clean his house or something.
Mike Smith : A replica Oscar
If you're looking for an easy stocking stuffer, you can address this from the Academy of NHL Officiating. He has earned it.
Jeff Carter : A Mike Richards autographed picture
Mike Richards: A Jeff Carter autographed picture
The Eastern Conference: Hockey for Dummies book
Seriously, how bad is the East this season? Maybe this will help. It was written in part by John Davidson, president of the scuffling Columbus Blue Jackets , so this could be a counterproductive gift. It's the thought that counts, though.
Ryan Suter : All-expenses-paid trip to a day spa
No skater in the NHL has been on the ice as much as Suter. With Sochi coming up, he could use a little rest and relaxation. Suter is averaging almost 30 minutes a night and is playing nearly two full minutes more per game than the next-closest player in the league.
Dan Bylsma: Pet bald eagle
Imagine how much better Bylsma would look leading Team USA at the 2014 Olympics with the national bird perched stoically on his shoulder? A lot better. 
Steve Yzerman: A GPS pre-programmed to find Montreal
More reports seem to suggest P.K. Subban will somehow be left off Canada's Olympic team, which leads me to believe the Team Canada staff hasn't been able to find Montreal.
P.K. Subban: A personal spotlight
Assuming Yzerman and company can find Montreal, perhaps Subban should take extra measures to make sure they see him. This would be the perfect gift to help him accomplish that goal.
Dion Phaneuf : A second closet
You saw 24/7, right? Dion's running out of space.
Remember, there are just four shopping days left, so you better hurry. Happy Holidays from us here at Eye on Hockey.
Show Comments
Hide Comments
Series schedules, results and updates from the second round of the Stanley Cup race

New Jersey claims No. 1 draft pick after having an 8.5 percent chance of earning the top s...

Ottawa takes a 2-0 lead over New York, and Pittsburgh does the same against Washington
St. Louis connected on one of five power plays to tie the series while Anaheim loses again...

Ottawa's defense came up big in Game 1 to beat New York, and the Penguins beat the Capitals...

Subban had three points in Nashville's 4-3 win over St. Louis in Game 1, while Edmonton dropped...