How the Devils went from Stanley Cup Final to missing the playoffs
Last year at this time the New Jersey Devils were on their way to the Stanley Cup Final. This year they're going to miss the playoffs completely.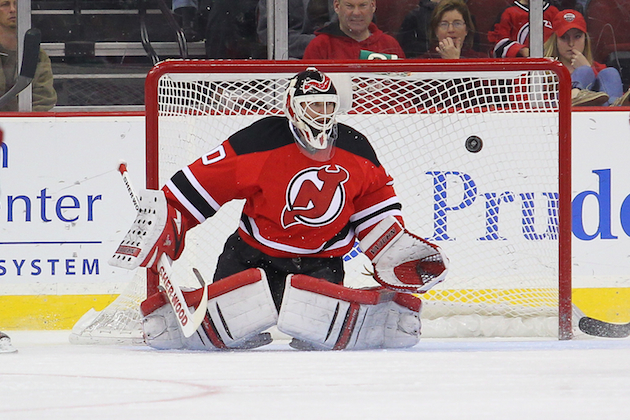 More NHL: Scores | Standings | Odds | Fight-O-Meter | League Leaders | Rumors
Last year at this time the New Jersey Devils were in the middle of a playoff run that would take them all the way to the Stanley Cup Final where they would lose in six games to the Los Angeles Kings.
On Sunday, their 4-1 loss to the New York Rangers eliminated them from postseason contention in 2013, ending what's been an extremely disappointing season capped off with a dreadful second-half collapse.
It was a season that started with such promise as New Jersey stormed out of the gate by inning nine of its first 14 games. Since then it's been all downhill as the Devils have won just eight of the 31 that followed.
So what happened in the span of one year that a team that was just two wins away from hoisting the Stanley Cup missed out on the playoffs entirely and likely won't finish higher than 10th in the conference?
The offense completely disappeared
The 2011-12 Devils weren't your older brother's Devils. For years the Devils have become synonymous with lining a bunch of people up at the blue line, mucking up the neutral zone, and sitting back waiting for teams to make a mistake. The Devils haven't been that type of team for quite some time, and last year's club won games by playing aggressively on the forecheck and sustaining pressure in the offensive zone. They may not have been an offensive powerhouse, but they were an aggressive team that defended by controlling the puck in the offensive zone. And they were great at it.
Some of that was still there in 2013 and it was evident in some of the numbers. The Devils outshot their opponents by more than four shots per game (usually a good sign) and their possession metrics are among the best in the league (also usually a good sign). But while they are able to control the puck and create far more shots than their opponents, they just didn't seem to have the type of skill needed to take advantage of it and consistently turn those chances into goals.
The Devils fell all the way down to 26th in the NHL in goal-scoring this season.
And lot of it started to happen before the season even began.
Zach Parise left and
Ilya Kovalchuk

missed a month

Back in July Zach Parise, one of the Devils' best players in recent memory, left in free agency to sign a 13-year contract with the Minnesota Wild. Parise is probably never going to be the 40-goal, 90-point guy he was a few years back but he still would have been one of the Devils' most productive offensive players, and he's still probably a 30-goal, 70-point player. When you lose a guy like that and have nobody else coming in to replace him, that's going to be a huge dent in your offense.

And it has been.

Adding to the problems offensively was the injury to Ilya Kovalchuk, currently the Devils' best player (and one of the best players in the NHL), that sidelined him for nearly a month between March 23 and April 20.

During that stretch the Devils lost 10 of 11 games and went from the No. 7 spot in the Eastern Conference all the way down to their current spot in 10th place.

That's just too much firepower for a team to lose, especially when it wasn't loaded with proven goal-scorers anyway. The decline of Patrik Elias, one of the best players in franchise history, hasn't helped matters either. He had a fantastic season last season but at 36 -- now 37 -- he wasn't able to match the near point-per-game pace he put up in 2011-12.
Father time and declining play in net
The Devils went into another season with Martin Brodeur (40) and Johan Hedberg (39) teaming up in net, and for the third straight year it had to be one of the oldest goaltending duos in league history. That's a risky proposition even if Brodeur is one of the best to ever play the position and headed to the Hall of Fame. You can't expect two guys that age to hold up that well forever, and it really started to show up this season.
Brodeur, when healthy, posted one of the worst save percentages of his career and ended up missing time due to injury. When he was out Hedberg had to take over in the No. 1 role and it was clear that he just wasn't up to that task at this point in his career, posting a save percentage of just .886.
That's flat out not good enough.
It's not fair to put all of the blame on the Devils' goaltending as the defense was far from perfect, but when you're a team that allows the fewest shots in the NHL (only 23 per game) and are still giving up more than 2 1/2 goals per game and only a middle-of-the-pack team in terms of goals against, that's not a good sign for your goaltending.
Show Comments
Hide Comments
Series schedules, results and updates from the Eastern and Western conference finals

Nashville refuses to back down despite taking fewer than 20 shots against fill-in goalie Jonathan...

Anaheim will be without two key forwards and possibly its No. 1 goalie in Nashville on Mon...
Pittsburgh makes a fool of Ottawa's top-line defense with four goals in the first period a...

"Hank" then gets tackled by teammate William Nylander in a celebration for Team Sweden

Nashville can advance to the Stanley Cup Final with a win at home in Game 6