Is the Chicago Blackhawks' logo offensive?
The Blackhawks' famed logo features an Indian head. Why does the logo not get the same scrutiny other similar logos get for being offensive?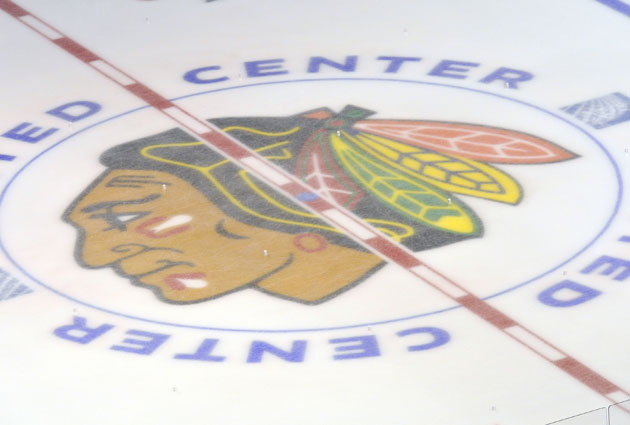 More NHL Playoffs: Scores | TV Schedule | Expert Picks | Odds | Mock Draft | Rumors
As the Chicago Blackhawks play for a second Stanley Cup title in the span of four years, some are taking notice of the fact that the team doesn't come under fire often for their logo, which depicts a Native American.
With what has gone on in the NCAA in recent years and, more recently, in the NFL with the furor surrounding the Washington Redskins, it does beg the question of why the Blackhawks seem to avoid this scrutiny? After all, it's not that much different than, say, the North Dakota Fighting Sioux. There was a big fight over their name and logo and whether or not it was offensive. That just doesn't happen much with Chicago.
There is no debating that the Blackhawks' logo is one of the more recognizeable -- and best -- in all of sports. But is it offensive? Tim Baffoe of CBS Chicago addresses that question.
But I've been thinking -- why isn't the Indian head logo more often a topic of conversation when it comes to offensive sports imagery? Why isn't the organization in the Stanley Cup Final almost ever asked to justify it?

...

It's about who it offends, who it bothers, who it makes roll their eyes or shake their head. It is still offensive to some, voices that aren't as loud as a majority already mumbling to itself that this column is stupid ... and shut up, loser. Protestors' voices were heard briefly in 2010 with the Hawks last Cup run, and they quickly quieted and were forgotten. But why doesn't the logo get the negative attitude of other controversial team aspects?

Why don't more people care, including me? I'm not really bothered by the Indian head. I'm so used to it and associating with what so many consider the best uniform in sports that I've never thought to question it. But I understand why Native Americans would have a problem with it. Imagine instead if a team used a profile of an African American, Asian or Hispanic man. It wouldn't stand for a second. But in this case using one of a minority is fine to most people.
It's a fair question. Other logos have come under scrutiny, but theirs has not. It's understandable why it hasn't drawn anywhere near the same criticism as the Redskins with a name that is offensive to many, not just the logo. But it is a bit puzzling why it has drawn next to zero.
I am not here presenting an opinion. I'm not entirely sure where I even stand on it. It's just a question worth asking as the Blackhawks take one of sports' biggest stages and their logo is seen all over the place.
Show Comments
Hide Comments
Series schedules, results and updates from the second round of the Stanley Cup race

New Jersey claims No. 1 draft pick after having an 8.5 percent chance of earning the top s...

Ottawa takes a 2-0 lead over New York, and Pittsburgh does the same against Washington
St. Louis connected on one of five power plays to tie the series while Anaheim loses again...

Ottawa's defense came up big in Game 1 to beat New York, and the Penguins beat the Capitals...

Subban had three points in Nashville's 4-3 win over St. Louis in Game 1, while Edmonton dropped...