It sounds like the John Scott movie is going to happen
John Scott's unlikely rise to NHL All-Star Game MVP is apparently going to become a movie. The big enforcer says the wheels are in motion.
The jokes about John Scott's unlikely All-Star story being turned into a movie before he even laced up his skates at the NHL All-Star Game in Nashville quickly turned serious when he became the game's MVP. It's even more serious now as Scott says the wheels are in motion to make this movie happen, and soon.
Scott spoke with Sportsnet 590 radio's Dean Blundell in an entertaining interview Wednesday morning and revealed that things are moving quickly on a potential film about his incredible story.
"The movie thing is still going to happen, which is going to be super cool," Scott said (Via Sportsnet.ca).
As for who should play him in the movie, Scott cited "the guy from Goon," but noted that he was already spoken for.
I believe he's talking about Liev Schreiber, who played Ross "The Boss" Rhea in the cult comedy that is also getting a sequel. And with the way Schreiber sold his role in Goon, he really would be perfect, but I don't know if we'll see him in another hockey movie.
Scott told Blundell that he was approached by a screenwriter before he even made it to Nashville. The writer was apparently linked to a production company and pitched the idea to Ben Hankinson, Scott's agent who has been running point on the post-MVP popularity of his client. That same screenwriter is the one they're trying to work the movie out with.
"I think they want to do it fairly quickly while it's still fresh in everyone's mind," Scott told Blundell.
There's obviously a lot that goes into a movie, so there's probably a ways to go on anything definitive getting done, but at least the wheels are in motion. I'd watch it.
During the interview, Scott declined to name the league executive that now infamously asked Scott before the game if his daughters would be proud of him for taking part in an All-Star Game despite not exactly being "deserving." He did confirm, however, that whoever it was that said that to him did not have a name that rhymes with "Larry." So it appears Gary Bettman is off the hook on that one.
It's been a whirlwind few weeks for Scott since his All-Star appearance. The same week he starred in Nashville, his wife gave birth to twin girls. He spent about a week at home and has since resumed playing.
Scott is currently back with the St. John's (Newfoundland) IceCaps in the American Hockey League, which is where he was sent after the Arizona Coyotes traded him to the Montreal Canadiens. He is unlikely to see NHL time again this season unless he's traded ahead of the Feb. 29 trading deadline. 
If we don't see the enforcer turned folk hero in the NHL again, we'll at least have the movie.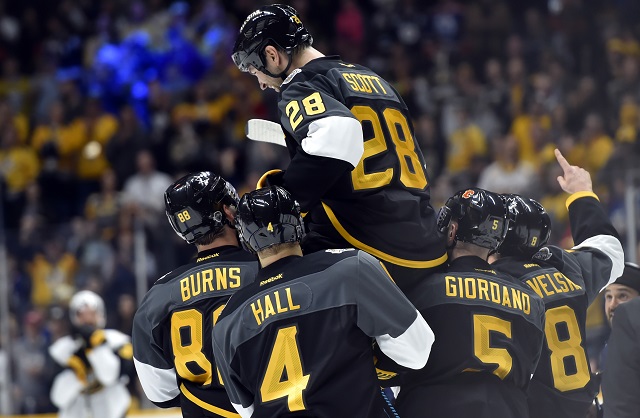 Show Comments
Hide Comments
Series schedules, results and updates from the second round of the Stanley Cup race

Subban had three points in Nashville's 4-3 win over St. Louis in Game 1, while Edmonton dropped...

Washington and Pittsburgh figure to go neck and neck, as do Anaheim and Edmonton
Cassidy went 18-8-1 after replacing Claude Julien in 2016-17

With the playoff field cut in half, the stakes keep getting raised

Green has led Vancouver's AHL affiliate since 2013