Jake Gardiner's agent wants Maple Leafs to free Jake Gardiner
Jake Gardiner was sent to the AHL to recover from a concussion and now that he's been back, he hasn't come back to the Leafs. His agent wants them to free his client.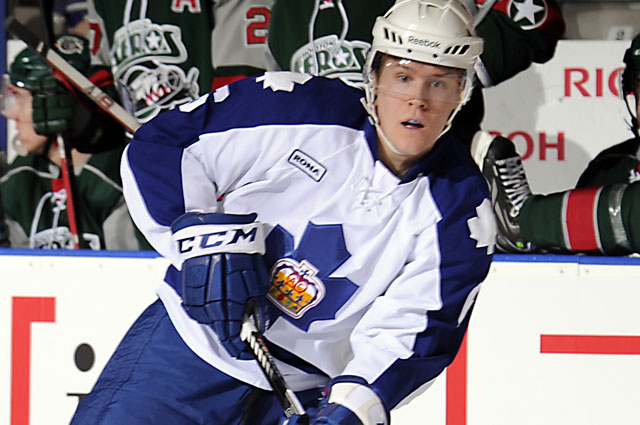 More NHL: Scores | Standings | Odds | Fight-O-Meter | League Leaders | Rumors
Where have you gone, Jake Gardiner? Leafs nation turns its lonely eyes to you.
The loyal fans of the Maple Leafs are starting to have deja vu. The team ran out to a hot start and then fell off the table, the same as the last season. The Leafs were the only team that was in the playoffs 24 games into last season and out of the playoffs by Game 48. They might be heading toward that abyss again and there's something they can try to do about it but aren't.
One of the organization's best defenseman, Jake Gardiner, is still playing in Toronto, but in the AHL with the Marlies. He was sent there at the beginning of the season after suffering a concussion and he's been back and playing for a few weeks now. Yet he has stayed down on the farm.
His agent Ben Hankinson doesn't understand why. Like any player agent would do, he campaigned for his client on Twitter. All it took was one hashtag to get his message across loud and clear.
March 13, 2013
It's a pretty good demand even if Hankinson wasn't his agent. Gardiner was a rookie last season, playing in 75 games. In that time he scored seven goals and added 23 assists while playing more than 21 minutes per game. There was talk about him being a fringe Calder Trophy candidate he was so impressive.
In other words, he's good. And he's shown he is an NHL-ready player and is more than capable of performing in the big leagues.
Now he's stuck in the AHL. The crux of the issue seems to be a preference of coach Randy Carlyle to have a very tough team on the ice and that especially includes the defensemen. Gardiner is a bit more of the puck-moving variety, not necessarily a bruiser on the back.
It makes you wonder if Gardiner has a future with the Leafs at all as long as Carlyle is behind the bench. Dave Feschuk of the Toronto Star certainly wonders that.
Gardiner, a flashy piece of untapped potential, stands as a perfect hunk of trade bait as the April 3 deadline approaches.
I suppose that would be one way to #FreeJakeGardiner.
This has become a bigger issue as the Leafs have hit a bump in the road here. They have lost three games in a row, and in six of their past seven games they have surrendered at least four goals. That is not very good, in case you were wondering.
For what it's worth, his coach in the AHL, Dallas Eakins, opined on the tweet. "From his agent's standpoint, I'm not sure it was well thought out," Eakins said.
Playing for the Marlies this season, Gardiner has appeared in 40 games. He has 10 goals and 20 assists to show for it.
For more hockey news, rumors and analysis, follow @EyeOnHockey and @StubitsCBS on Twitter, subscribe to our YouTube account and like us on Facebook.
Show Comments
Hide Comments
Our Latest Stories
Finland has churned out some winners in a league filled to the brim with diverse players

From the Caps' goaltender to the star-studded headlining duo of Chicago's offense, these guys...

Scoring his 41st goal of the year in a 3-1 win over the Buffalo Sabres, the Pittsburgh Penguins...
A nightmare comes to life with Gary Bettman downplaying the idea of sending NHL stars to South...

The resurgent Lightning are primed to sneak into contention, while the once-hot Islanders are...

Capitals are first team to earn a playoff berth, but the Blackhawks are the hottest of the...