Jamie Langenbrunner announces retirement after 16 seasons
Jamie Langenbrunner's NHL career is officially finished. He announced his retirement on Wednesday after 16 seasons, two Stanley Cups and a silver medal.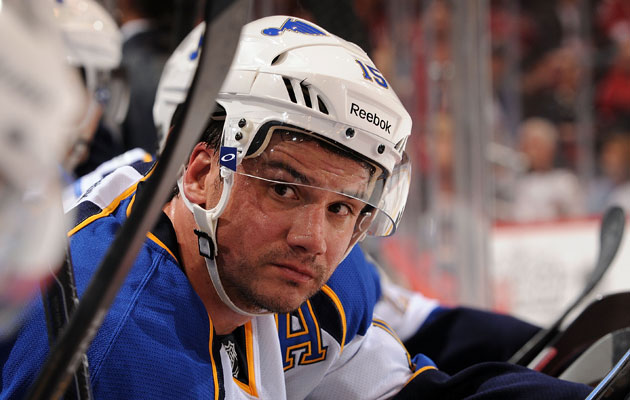 More NHL: Scores | Standings | League Leaders | Odds | Injuries | Power Rankings
Veteran forward Jamie Langenbrunner was unable to find a contract for this season so on Wednesday the NHLPA announced the 38-year-old has officially retired from professional hockey.
Langenbrunner, who spent the last two seasons with the Blues but only played four games in the 2013 season, played 1,109 games in his career between the Blues, New Jersey Devils and the Dallas Stars, the team that drafted him. He was with the Stars for the Stanley Cup run in 1998-99, contributing 10 goals and seven assists in the playoffs.
He was traded to the Devils a couple seasons later along with Joe Nieuwendyk and won a second Stanley Cup with New Jersey in 2002-03. He has a strong postseason for New Jersey, scoring 11 goals and adding seven assists in 24 games.
"It was a dream come true to have the opportunity to play in the NHL for 16 seasons. The friendships I developed with my teammates, and also the people in the communities where I played, will always be cherished by my family and I," Langenbrunner said in the release. "I would like to thank Bob Gainey, Lou Lamoriello and Doug Armstrong for giving me the opportunity to play against the top players in hockey, in the best league in the world. I'd also like to thank my coaches and teammates for helping a kid from Minnesota enjoy a long, fulfilling hockey career. Finally I'd like to thank my truly amazing family for all their sacrifices they made so I could live my dream."
Langenbrunner also represented the USA twice in the Olympics, winning a silver medal with the Americans in 2010 in Vancouver. The other time he wore the red, white and blue at the Olympics was in 1998 in Nagano.
All told Langenbrunner finished his career with 243 goals -- 58 of them game winners -- and 420 assists. In his additional 146 postseason games he had 34 goals and 53 assists.
Show Comments
Hide Comments
The 14-year NHL veteran joins the team with which he played three seasons from 2013-16

Series schedule, results and updates from the title showdown between Nashville and Pittsbu...

Here's how to stay on top of the Pittsburgh Penguins' bid for a repeat against the Nashville...
Ottawa takes it into a fifth period of action but falls on a late goal from Chris Kunitz

Series schedules, results and updates from the Eastern and Western conference finals

Preds captain has three more days to recover from a hit to the head before final begins next...