Jaromir Jagr and Teemu Selanne are still dominating
Pucks and Numbers: a weekly statistical look at what's happening around the NHL. This week: A look at Jaromir Jagr and Teemu Selanne. The NHL's old guys who are still producing. A lot.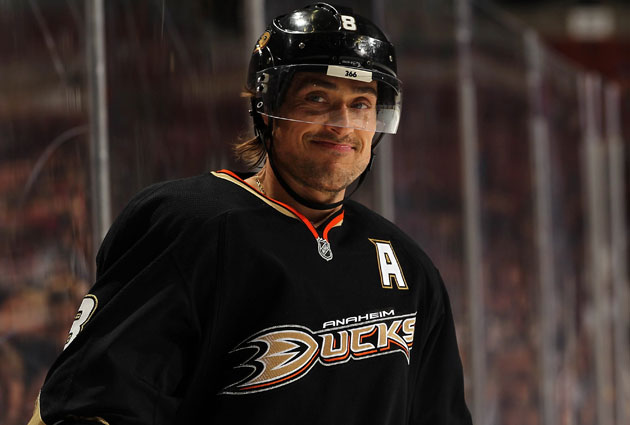 Teemu Selanne is 42 years old, but he doesn't play like it. (Getty Images)
More NHL: Scores | Standings | Odds | Fight-O-Meter | League Leaders | Rumors
Pucks and Numbers: a weekly statistical look at what's happening around the NHL. This week: A look at Jaromir Jagr and Teemu Selanne. The NHL's old guys who are still producing. A lot.
When you watch Jaromir Jagr and Teemu Selanne still able to play the way they do at the age of 40 (and beyond), you get the idea they could probably keep doing this until they're 50. They won't, of course. And though they're well past their primes, when they were among the greatest to step onto an NHL ice surface, it's still amazing to look at how productive they are when other players (hockey mortals) are well into their retirements.
Their current scoring paces are at levels that few others their age have accomplished in the NHL, and both are leading their respective teams in scoring as of Wednesday.
Jagr, who turned 41 last week, has 11 points in 15 games for the Dallas Stars. The 42-year-old Selanne is on a point-per-game pace for the surprising Anaheim Ducks.
Players this age still being this productive doesn't happen very often. I wanted to see how their starts and scoring paces compare to other forwards on the other side of 40 throughout NHL history.
Let's start with this: Before this season, there have only been 12 instances in which 40-year-old forwards played a mininum of 15 games in a season and scored at the .70 point-per-game pace that Jagr and Selanne are boasting: Selanne has done it twice, Gordie Howe did it three times, John Bucyk did it twice. Mark Messier, Mario Lemieux, Jean Ratelle, Frank Boucher and Alex Delvecchio all did it once.
But those were averages over a full season.
Let's take a look at how many players in recent years have managed to produce at such a level through the first 15 games of a season.
Not many have been able to do it.
I went back to the start of the 2000 season and found just seven instances in which a player over the age of 40 averaged at least .70 points per game through his first 15 games of a season. The table shows the seven players, as well as where Selanne and Jagr's starts this year fit in.
Forward scoring over the age of 40
Player (Season)
PTS through 15 Games
PPG/15
Total PTS
Total PPG
PPG/Dif
Mark Messier (2000-01)
18
1.20
67
0.82
-0.38
Mario Lemieux (2005-06)
18
1.20
22
0.85
-0.35
Teemu Selanne (2010-11)
17
1.13
80
1.10
-0.03
Teemu Selanne (2013)
15
1.00
?
?
?
Teemu Selanne (2011-12)
14
0.93
66
0.80
-0.13
Scott Mellanby (2006-07)
12
0.80
36
0.52
-0.28
Jaromir Jagr (2013)
11
0.73
?
?
?
Mark Recchi (2010-11)
11
0.73
48
0.59
-0.14
Steve Thomas (2003-04)
11
0.73
22
0.50
-0.23
Mark Recchi (2008-09)
10
0.67
61
0.76
+0.09
Daniel Alfredsson (2013)
10
0.63
?
?
?
Dave Andreychuk (05-06)
9
0.60
18
0.43
-0.17
Mark Messier (2001-02)
9
0.60
23
0.56
-0.04
And while we're on the subject, let's not overlook Daniel Alfredsson's presence on the list this season.
But just look at Selanne's name filling up that table. His age 40 and 41 seasons (the previous two years) were two of the seven-best age 40-plus seasons by any forward in NHL history in terms of total points, and he's not slowing down this year. He's still the best player on the ice almost every time that he steps out there.
His 161 points after his 40th birthday are the third most in NHL history, trailing only Gordie Howe (267) and Mark Messier (173). Barring injury, he's going to pass Messier on that list this season.
Jagr is equally amazing to me. And as I pointed out a couple of weeks ago, it's stunning to look at his career and wonder where he would rank on the NHL's all-time scoring lists had he not lost so many games in his career to work stoppages and spent three years in his late 30s playing in Russia. He would be well on his way to being one of the top two or three scorers in league history, if he wasn't already there.
Along with the point production, he's still a dominant player with the puck and one of the best possession players in the NHL. I almost wonder how much of Claude Giroux's early season struggles were due in part to the absence of Jagr (and conversely, how much of his success a year ago was due to playing alongside Jagr).
Looking at the 2013 Stars and Jagr's most common linemates during 5-on-5 play (Jamie Benn, Brenden Morrow, and Loui Eriksson) all have been significantly worse in terms of their ability to generate shots when Jagr is not on the ice with them. According to the numbers at hockeyanalysis.com, the Stars are generating fewer than 45 percent of the shot attempts during 5-on-5 play when Benn, Morrow and Eriksson are on the ice without Jagr.
That is bad.
With Jagr on the ice, that percentage jumps to 55 percent. That's an example of a guy tilting the ice in the right direction for your team. And he's still doing it at the age of 41.
He doesn't have the breakaway speed that he did whe he was winning scoring titles during his days in Pittsburgh, but he still has the size, the hands and the ability to drive the play in the right direction. And that is an enormous asset for a team to have.
For more hockey news, rumors and analysis, follow @EyeOnHockey and @Agretz on Twitter and like us on Facebook. Also, subscribe to our YouTube Channel.
Show Comments
Hide Comments
Our Latest Stories
The Penguins' leader in highlight reels has been extra feisty on some cringe-worthy cheap shots...

2017 SAHP NHL Global Series will pit Ottawa and Colorado against each other in Stockholm

Finland has churned out some winners in a league filled to the brim with diverse players
From the Caps' goaltender to the star-studded headlining duo of Chicago's offense, these guys...

Scoring his 41st goal of the year in a 3-1 win over the Buffalo Sabres, the Pittsburgh Penguins...

A nightmare comes to life with Gary Bettman downplaying the idea of sending NHL stars to South...