Jaromir Jagr leads Czech Republic to win, remains the best
Jaromir Jagr scored for the Czechs again, leading them to a win. Asked afterward if he would score every game he said 'yeah, probably,' because Jagr is the best.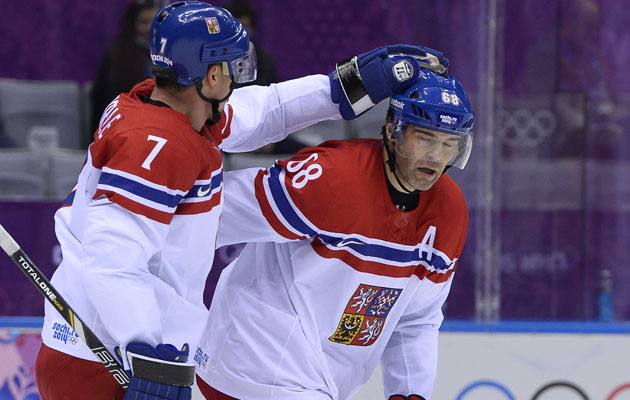 Jaromir Jagr turns 42 years old on Saturday and is in his fifth Olympic Games representing the Czech Republic at a top level, which is pretty awesome. Even more awesome? Jagr being Jagr.
The veteran led the Czechs to a 4-2 win over Latvia on Friday morning in a pretty tough game and he looked like the best player on the ice. As he is wont to do, he controlled the puck very well when it was on his stick and showed why he has remained so great all these years when he scored late in the first period to give the Czechs a 2-1 lead.
It was his second goal in as many games in Sochi, a streak that he said he has every intention of keeping in tact because a happy Jagr is great ... and a great quote.
Jaromir Jagr, asked if he's going to score every game at the Olympics: "Yeah, probably."

— Chris Johnston (@reporterchris) February 14, 2014
He followed it with a wink before going on his way. It's just classic Jagr having some fun with the media but at this point would you actually doubt him?
From the sounds of it, Jagr was in a pretty good mood on Friday. It looked that way too because the great Jagr moments weren't just limited to the postgame media chat. Jagr, who has been getting his knees/legs rubbed down in the first two games, showed the trainer his appreciation with his own rub in return.
So what can we do to guarantee Jagr makes the Czech team in 2018?
Show Comments
Hide Comments
Series schedules, results and updates from the second round of the Stanley Cup race

Subban had three points in Nashville's 4-3 win over St. Louis in Game 1, while Edmonton dropped...

Washington and Pittsburgh figure to go neck and neck, as do Anaheim and Edmonton
Cassidy went 18-8-1 after replacing Claude Julien in 2016-17

With the playoff field cut in half, the stakes keep getting raised

Green has led Vancouver's AHL affiliate since 2013