Jaromir Jagr will 'stop playing when I die,' would like doubleheaders
Jaromir Jagr is 41 but isn't slowing down at all. He says he'll 'stop playing when I die, man' and would love to play doubleheaders. Freak.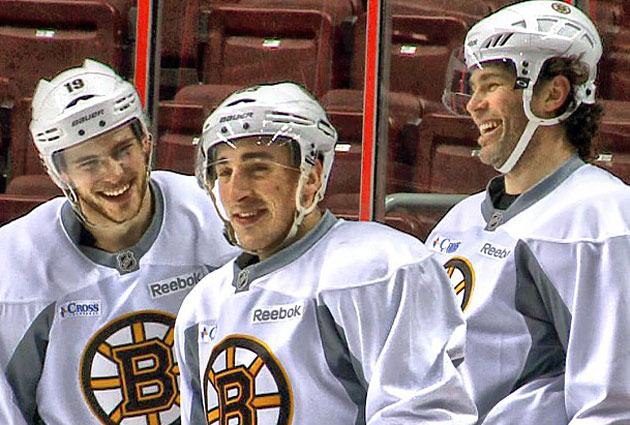 More NHL: Scores | Standings | Odds | Fight-O-Meter | League Leaders | Rumors
Jaromir Jagr is simply a freak of nature.
The 41-year-old forward who is one point behind Brad Marchand for the Bruins points lead with 34 in 43 games, is still going strong. The numbers bear that out and so does his body, at least according to the man himself.
With the Bruins visiting Philadelphia on Tuesday night, Jagr is making his first appearance back in Wells Fargo Center after playing for the Flyers last season and finding a good amount of success with Claude Giroux and Scott Hartnell. Jagr was asked before the game if he has any intentions of retiring, a pretty natural thought for a 41-year old. Except he doesn't.
"I'll stop playing when I die, man," he said.
What a great quote, even though I hope it doesn't happen exactly that way. Jagr is still one of the most entertaining players in the league, not to mention skilled. The guy keeps his body in such good shape that it's not really fair. Guys who are over the hill shouldn't be in as good of shape as Jagr.
How good of shape is that, exactly?
"If I'm healthy I want to play," Jagr said (via NESN). "I feel more tired when I rest. I have to play all the time. I have to practice a lot, and I have to play. My body is kind of different. I get tired when I have a rest. I would rather play two games. If it was a doubleheader like in baseball, I would feel the best.
"Too bad there are no doubleheaders in hockey. I'd be the best. I would feel even better in the second game."
That's just crazy. Visiting locker rooms after games you can see how fatigued some guys are and Jagr says he would like to do that twice in a day? At 41 years of age? No wonder the guy is still playing and playing well in the NHL. That kind of stamina and skill, especially at this point, is incredibly impressive.
The guy lives to play hockey and that's exactly what he's doing. As long as he can continue to play at a productive level, why stop, especially if he still loves to play the sport? There's no good reason. It's not like Jagr is the 120-point scorer he was early in his career but I think a lot of teams would take 16 goals and 18 assists in 43 games in a heartbeat.
Jagr is already in the top 10 in goals and points despite missing a few seasons due to a lockout and playing in the KHL. There are a few more names he could possibly catch if he playes for another couple of years. Here's hoping he does because he's still fun to watch, and have around.
Show Comments
Hide Comments
Series schedules, results and updates from the Eastern and Western conference finals

Nashville refuses to back down despite taking fewer than 20 shots against fill-in goalie Jonathan...

Anaheim will be without two key forwards and possibly its No. 1 goalie in Nashville on Mon...
Pittsburgh makes a fool of Ottawa's top-line defense with four goals in the first period a...

"Hank" then gets tackled by teammate William Nylander in a celebration for Team Sweden

Nashville can advance to the Stanley Cup Final with a win at home in Game 6