Jay Bouwmeester traded to Blues for first-round pick, two prospects
A few days after shipping Jarome Iginla to Pittsburgh, the Calgary Flames made another move on Monday by trading defenseman Jay Bouwmeester to the St. Louis Blues.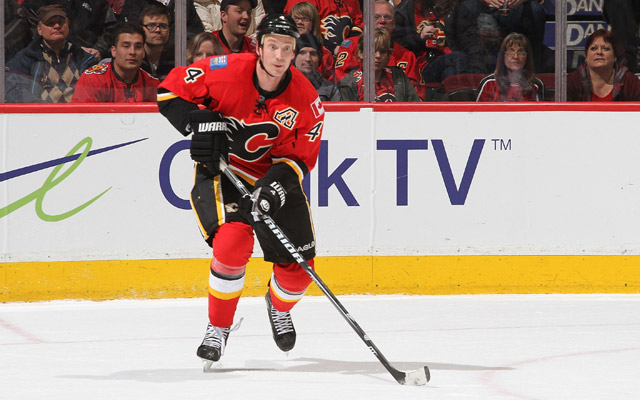 More NHL: Scores | Standings | Odds | Fight-O-Meter | League Leaders | Rumors
A few days after shipping Jarome Iginla to Pittsburgh, the Calgary Flames made another move on Monday by trading defenseman Jay Bouwmeester to the St. Louis Blues.
In return for Bouwmeester the Flames will get St. Louis' first-round pick in the upcoming draft, defenseman Mark Cundari and goalie Reto Berra. If the Blues don't make the playoffs this season then the Flames will get a fourth-round pick in this draft and the first-rounder will be deferred to the following draft.
With that, it's definitely open season on the Flames roster.
Unless you really value that first-round pick -- which will probably be middle of the road or worse -- it's not a particularly great return for Calgary. Flames GM Jay Feaster had said he wanted to get a good return that involved NHL-ready players if he moved Bouwmeester, but neither Cundari nor Berra would appear to fit that mold, at least not as elite prospects.
Cundari, 22, is a rather small defenseman at 5-10. He went undrafted out of the OHL and signed with the Blues. This season for the Peoria Rivermen in the AHL he has seven goals, 18 assists in 56 games while racking up 80 penalty minutes.
Standing 6-4, Berra fits the mold of big goalies, but the Swiss native is 27 now and still hasn't made it over to North America since the Blues drafted him back in 2006. He is playing for Biel in the Swiss League, having played in 49 games this season and posting pedestrian numbers with a 3.01 goals against average and .906 save percentage.
It seems like a light return for Bouwmeester from Calgary's perspective, but at this point they needed to move on and got what they could, both for Iginla and for Bouwmeester.
Bouwmeester's name had been mentioned in the past as a possible trade target and connected with the Blues as well as the Red Wings, but one problem was that Bouwmeester had to sign off on any deal. With him in his fourth season with the Flames and Calgary headed once again for an early offseason, he obviously gave his consent.
It was thought there was some trepidation about acquiring Bouwmeester because he carries a pretty heavy salary. After having his contract rights traded to Calgary from Florida, Bouwmeester signed a deal that brings a $6.68 million cap hit through next season. For a player whose offensive production had gone down in Calgary, it seemed a bit bloated.
But that doesn't speak to Bouwmeester's reliability. Until this trade, Bouwmeester has not missed a game since 2003-04. He's the NHL's current iron man, and he's a huge minutes eater to boot. This season he has played 25 minutes per game with the Flames. For a guy who is not a liability on the back end, it's reasonable. You know what you're going to get from JayBo.
Bouwmeester brings another bit of baggage with him to St. Louis. He is the NHL record holder for most games played without making the postseason. Since his whole career up to this point has been spent with the Panthers and Flames, he hasn't been to the playoffs despite playing 750 games. Olli Jokinen -- who also spent time with the Panthers and Flames -- went longer to start his career without the postseason than Bouwmeester up to this point, but he finally broke through, leaving Bouwmeester as that dubious record holder.
Obviously, the hope in St. Louis is that will change this season. The Blues are in a surprising spot, fighting for a berth into the postseason. The defense, which was so good last season, has been a major disappointment, both in front of the goalies and between the pipes. That's why they went out and acquired Jordan Leopold from Buffalo earlier this week. (Fun fact: the Panthers traded Bouwmeester and received Leopold in return from Calgary).
Plus, while Bouwmeester's offensive output had been down, he has enjoyed a bit of a rebound this season. He can still bring some of that offense he was known for in Florida.
Show Comments
Hide Comments
Vince Gill, Carrie Underwood, Lady Antebellum and Luke Bryan have apparently upstaged a hometown...

The 14-year NHL veteran joins the team with which he played three seasons from 2013-16

Series schedule, results and updates from the title showdown between Nashville and Pittsbu...
Here's how to stay on top of the Pittsburgh Penguins' bid for a repeat against the Nashville...

Ottawa takes it into a fifth period of action but falls on a late goal from Chris Kunitz

Series schedules, results and updates from the Eastern and Western conference finals