Jay Feaster fired as general manager of Calgary Flames
The Calgary Flames fired general manager Jay Feaster on Thursday, also relieving assistant GM John Weisbrod of his duties.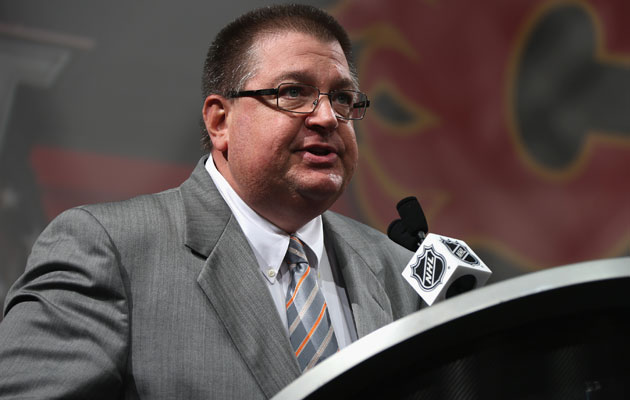 More NHL: Scores | Standings | League Leaders | Odds | Injuries | Power Rankings
The Calgary Flames have relieved general manager Jay Feaster of his duties, doing the same with assistant GM John Weisbrod on Thursday. Both are effective immediately.
Feaster has been the general manager since 2010 when he took over the role from Darryl Sutter. Under his guidance the Flames haven't made the postseason and just recently the team elected to cut bait and go for the rebuild.
What everybody is waiting to see now is if Brian Burke is going to take over as the general manager. Burke joined the organization earlier this year as the director of hockey operations, a new role that had him working with Feaster. When Burke was introduced, he professed that he was going to be in the background and that Feaster was his GM and would be his GM.
"I'm not the general manager of the Calgary Flames. Jay Feaster is," Burke explained at the time. "He is going to be in charge but with my guidance."
That second part didn't last long. We'll find out later on Thursday when Burke addresses the media if he will indeed end up as the GM of the Flames.
Feaster's tenure isn't likely to be remembered fondly. There was hope when he came in as he was the GM of the Lightning team that won the Stanley Cup in the mid-2000s but he was never able to get the team going in the right direction. They played with a high pay roll but had little payoff to show for it.
Now, the move that will end up defining Feaster's career will be the trade of Jarome Iginla. The Flames had little choice to trade away an asset like Iginla even if he was a local icon but some felt he waited too long, holding out to unrealistic playoff hopes. At the same time, the return was underwhelming with Kenny Agostino, Ben Hanowski and a first-round pick from Pittsburgh (used to take Morgan Klimchuk). It was with that the Flames signalled they were undertaking the rebuild in earnest.
When Burke was announced he explained that he thought Feaster and his staff had done a good job with the beginning phase of the rebuild and made it sound like they would stay on. The Flames' most recent draft was seen as strong by most. The team has played hard this season with its minimal talent but something changed and clearly the direction wasn't seen as the right one by the upper management that includes Burke. You can't help but wonder if seeing Iginla return on Tuesday night didn't have some small effect.
Show Comments
Hide Comments
Our Latest Stories
It's only the preseason, but this save by Nathan Lieuwen might not be topped this year

The World Cup hosts are one win away from reclaiming the title

It's only the preseason, but noted agitator Shaw is in mid-season form
The league is going all out for its year-long centennial celebration

Johnny Gaudreau, Nikita Kucherov and other top unsigned RFAs risk missing the start of the...

Team Europe will be without one of their top forwards against Canada