Jets D Zach Redmond leaves in ambulance after cut around knee
Jets defenseman Zach Redmond left the team's morning skate in an ambulance on Thursday after sustaining a 'fairly wide cut' on his leg.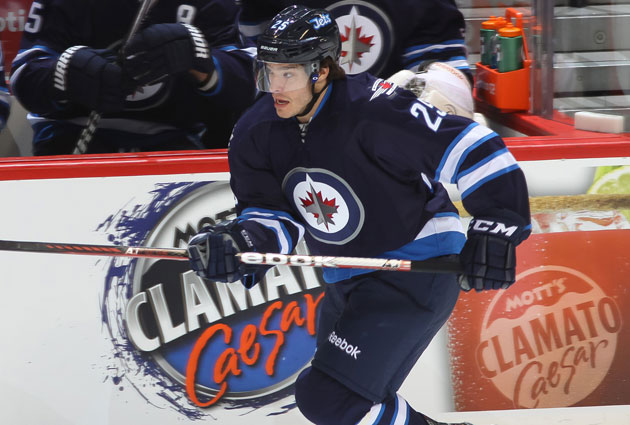 Redmond was cut around the knee but his coach says he should be fine. (Getty Images)
More NHL: Scores | Standings | Odds | Fight-O-Meter | League Leaders | Rumors
UPDATE: The Jets announced that Redmond underwent surgery on Thursday afternoon to repair a lacerated a laceration to his right femoral artery and vein.
An awfully scary scene played out in Winnipeg on Thursday. As the Jets were going through their morning skate. Jets rookie defenseman Zach Redmond was take away from the arena in an ambulance after what appears to be a freak accident in a 1-on-1 drill.
It's best to just let Ed Tait of the Winnipeg Free-Press take it over from here:
#NHLJets Zach Redmond down on ice after practice. Apparently skate cut the back of his leg. Ambulance has been called #bn

— Ed Tait (@WFPEdTait) February 21, 2013
A number of #NHLJets players on ice huddled around Redmond. Visibly concerned. Claude Noel came back in ice. Asst coaches were still out #bn

— Ed Tait (@WFPEdTait) February 21, 2013
#NHLJets ambulance is here now for Zach Redmond. Hearing he had the back of his leg cut by a falling teammate #bn

— Ed Tait (@WFPEdTait) February 21, 2013
#NHLJets Gory scene now that players are clearing away from scene. A lot o blood on the ice where Zach Redmond had leg cut by skate #bn

— Ed Tait (@WFPEdTait) February 21, 2013
Players like Antti Miettinen and Anthony Peluso who were on scene are coming off ice with lots of blood on their socks and jerseys #bn

— Ed Tait (@WFPEdTait) February 21, 2013
Yikes.
The good news is that, according to coach Claude Noel, Redmond should be fine. Noel said that a player stepped on Noel's leg near the knee and that it resulted in a "fairly wide cut." Despite Redmond losing a lot of blood, Noel said he was coherent and should be fine.
It sounds a bit similar to the situation with Erik Karlsson that sidelined the reigning Norris Trophy winner for what looks like the rest of the season after Matt Cooke's skate severed Karlsson's Achilles tendon. But Kevlar socks -- which Redmond reportedly wears -- wouldn't have helped; the cut was too high.
This again makes me marvel at how things like this don't happen more often. Players are essentially skating around with knives on their feet, and they fall down a lot. Accidents are bound to happen.
Redmond has only played in eight NHL games, all this season. The 24-year-old has one goal and three assists and has been averating 19:35 of ice time, starting to take a key role on the Jets' blue line.
For more hockey news, rumors and analysis, follow @EyeOnHockey and @StubitsCBS on Twitter, subscribe to our YouTube account and like us on Facebook.
Show Comments
Hide Comments
Washington and Toronto set to face off March 3 in Annapolis

"Let's go, Preds!" chants take on a whole new meaning in the hype piece

Both Stanley Cup Final contenders cracked the list of top 10 teams searched in 2016-17
The Preds will need more from their blue-line depth, and Pittsburgh has to capitalize in s...

Vince Gill, Carrie Underwood, Lady Antebellum and Luke Bryan have apparently upstaged a hometown...

The 14-year NHL veteran joins the team with which he played three seasons from 2013-16