Joel Quenneville to Canadiens? Blackhawks GM denies problem, expects coach back
Amid speculation that Joel Quenneville is emerging as a top candidate to take the Canadiens coaching job, Blackhawks GM Stan Bowman denies any problems and said he anticipates Quenneville returning.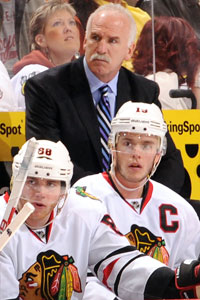 Quenneville earned his ring two years ago. (Getty Images)
With a second consecutive first-round exit and assistant GM Marc Bergevin taking the general manager position with the Montreal Canadiens, the speculation has been growing that Blackhawks coach Joel Quenneville could become the next coach of the Habs.
Does that seem crazy? Well the rumor gained some serious juice when it was mentioned during a recent edition of CBC's Hot Stove report, indicating a possible strain in Quenneville's relationship with the front office in Chicago.
So how much truth to the rumors are there? Well Chris Kuc of the Chicago Tribune, who broke the news of Bergevin's hire in Montreal, went straight to Blackhawks GM Stan Bowman to ask.
"Yeah, I think we made that clear at the end of the year, that we're trying to look forward and get better as a group," Bowman told the Tribune. "But I don't talk about rumors. I haven't and I don't want to start now."

Just to clarify, the question was broached again if Bowman anticipated Quenneville, whose contract runs through 2013-14, coaching the Hawks next season. The GM chuckled and said: "Yes."
Good on Kuc for pushing Bowman for a straight answer on it instead of the typical dodgy responses. That will probably him well in the long run if he doesn't want to talk about speculation and rumors. Definitive answers are a good way to stop that.
But maybe just as pressing is this talk of problems between Quenneville and the front office? Well that was actually something Bowman originally addressed at the exit-interview day for the Blackhawks a couple weeks ago.
"Our relationship wasn't strained at all," Bowman said then. "We have great communication back and forth. We see things very similarly in terms of areas that need improvement. So, from that perspective, I think there's a lot of synergy between the two of us."
So that should quiet the firestorm that was slowly building about this. After all, Quenneville does have a Stanley Cup ring so that would help win over the Montreal faithful if he were to be hired there. That and the fact that he is at least capable in French. He was becoming a trendy name for the Habs' head spot but like any trend, it eventually goes out of style.
While there's no guarantee this will put an end to this talk -- do you ever really trust what a GM says publicly? -- it should certainly dampen it.
For more hockey news, rumors and analysis, follow @EyeOnHockey and @BrianStubitsNHL on Twitter and like us on Facebook.
Show Comments
Hide Comments
Preds captain has three more days to recover from a hit to the head before final begins next...

Replicating its Game 6 dominance -- everywhere but the scoreboard -- might not be easy for...

Ottawa recovers from a 7-0 loss in Game 5 to quiet Pittsburgh's offense
Series schedules, results and updates from the Eastern and Western conference finals

Out for the remainder of the postseason, Johansen is still part of the Predators' playoff...

Nashville refuses to back down despite taking fewer than 20 shots against fill-in goalie Jonathan...