Joffrey Lupul will forever be haunted by Leafs' Game 7 loss
The Maple Leafs had their hearts broken on Monday night by Boston's incredible comeback in Game 7, something that will forever haunt Joffrey Lupul.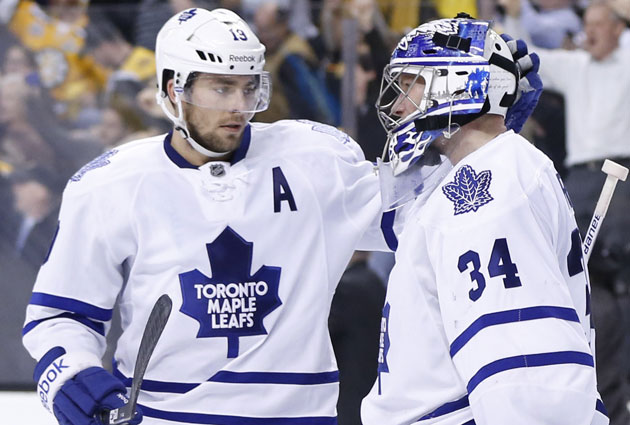 More NHL Playoffs: Scores | TV Schedule | Expert Picks | Odds | Mock Draft | Rumors
On Tuesday morning, the hockey world was still buzzing with Boston's stirring comeback in Game 7. Or, depending on your viewpoint, Toronto's stunning collapse.
A 4-1 lead midway through the third period was down to a 4-2 lead with 1:30 to go. That was down to a tie game with :30 left. It finally became a 5-4 Bruins victory when Patrice Bergeron completed one of the most amazing Game 7s that you will ever see. In any sport.
The morning after, it still stings for the Leafs. And it will continue to sting. How long? For Joffrey Lupul it will be a really, really long time.
That hockey game will haunt me until the day I die...

— Joffrey Lupul (@JLupul) May 14, 2013
Ouch. It's tough not to feel for the Maple Leafs even if you aren't a Toronto fan. There is no more gut-wrenching way to lose. For a franchise that hasn't won a Cup since 1967 and has been a punchline to a lot of jokes, it was just another awful chapter in their recent history.
Misery does love company, though, and Lupul will have plenty of company. Like all of these people watching outside in Toronto on Monday night.
Show Comments
Hide Comments
Pittsburgh has the talent and experience, but the Predators' fiery blue line should help them...

The Predators are riding an opportunistic defense and superb goalie, while the Pens boast elite...

Washington and Toronto set to face off March 3 in Annapolis
"Let's go, Preds!" chants take on a whole new meaning in the hype piece

Both Stanley Cup Final contenders cracked the list of top 10 teams searched in 2016-17

The Preds will need more from their blue-line depth, and Pittsburgh has to capitalize in s...