John Scott, P.K. and Wookiees: Top 10 moments from NHL Skills competition
The NHL All-Stars put on a show at the NHL's skills competition on Saturday night. Here are the 10 best moments, including John Scott's standing ovation, P.K. Subban and Brent Burns having a costume party and a nice reminder that, yes, these guys are also great hockey players, too.
One of the highlights of the NHL All-Star weekend is the skills competition, and on Saturday night in Nashville, Tennessee, the NHL's best players put on quite a show. 
This night in the Music City had a little bit of everything, from a standing ovation for John Scott to Shea Weber getting a curtain call for his ability to shoot a frozen rubber disk harder than any other human on the planet and a couple of the NHL's best players having a costume party.
Here are the 10 best moments from Saturday's event. 
1. John Scott had the time of his life and he put on a pretty good show
John Scott, as expected, was the life of the party Saturday night, and contrary to what the NHL or critics of his spot in the game might have had you believe going in, he wasn't anything close to an embarrassment. 
Let's recap his night: He laughed at Patrick Kane when Kane was booed during the introductions, received one of the loudest ovations during the same introductions, got a standing ovation during the hardest shot competition (where he did quite well, topping out at 95.8 mph, beating more than one player, including last year's Rookie of the Year, Aaron Ekblad ) and broke out a beauty of a spin-o-rama move in the shootout. 
John Scott goes for the spinorama pic.twitter.com/hdut8fUBSS

— Jeff Veillette (@JeffVeillette) January 31, 2016
This was a fun night, and Scott's presence there was a big reason why. 
2. Chewbacca nearly won the breakaway challenge
Just when you thought Brent Burns  suit was going to be his highlight of the night, he brought out his kid for the breakaway challenge and allowed him to score a goal, and then dressed as Chewbacca.
I mean, this picture pretty much sums up the entire night.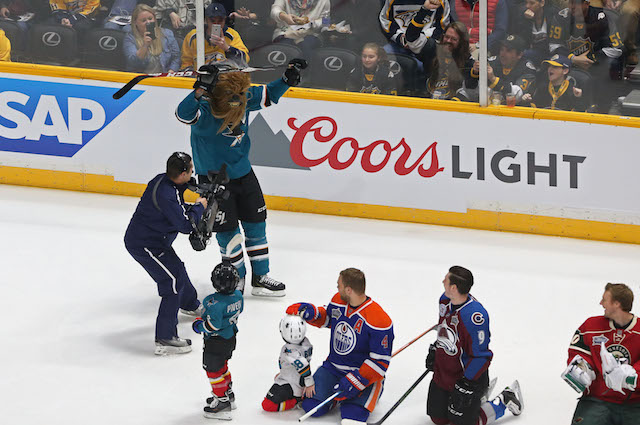 That mask. The kids staring at him. Taylor Hall being in charge of one of them. It's all too much. 
It also inspired this fantastic Star Wars reference from the Sharks' official Twitter account. 
Someone forgot to let the wookiee win. pic.twitter.com/E1dbWZKC4k

—

San Jose Sharks

(@SanJoseSharks) January 31, 2016
And again, Burns was also responsible for what was perhaps the most adorable moment of the night.
3. P.K. Jagr
The only reason Burns didn't win the breakaway challenge is because Montreal Canadiens defenseman P.K. Subban dressed up as Jaromir Jagr . And to be fair, that was pretty spectacular.
.@PKSubban1 salutes the #legend and wins the Honda Breakaway Challenge. #NHLAllStarhttps://t.co/lWlf2NkVHS

— NHL (@NHL) January 31, 2016
4. Shea Weber  curtain call
For the second year in a row Nashville Predators defenseman Shea Weber won the NHL's hardest shot competition, topping out at 108.1 mph. It's the type of shot that is only heard, and not seen.
What does 108.1mph look like? A blur. #NHLAllStarhttps://t.co/9LKhGIrPHL

— NHL (@NHL) January 31, 2016
It was such a great performance that while he was being interviewed on TV the hometown fans were calling for an encore performance, chanting "One more shot" over and over again. 
Weber obliged and stepped in for one more.
He "only" reached 107 on the gun. You know you've set a high bar for yourself when 107 mph is kind of a let down. 
5. Aaron Ekblad's Spacey In Space sweatshirt
Nobody outside of the Florida Panthers and actor Kevin Spacey knows the meaning behind the Florida Panthers' postgame MVP award (a blue hoodie with Kevin Spacey's head floating in space) but it made an appearance at the skills competition.
Just before Ekblad took his shot in the hardest shot competition, he removed his Panthers jersey to reveal the Spacey in Space sweatshirt. 
Spacey in space. pic.twitter.com/IKUcBmaJoS

— Ted Starkey (@TedStarkey) January 31, 2016
It didn't bring him much luck, though, as he finished in last in the contest.
6. Dylan Larkin is the fastest skater ... OF ALL TIME
Well, at least as far as the NHL skills competition is concerned. 
The 19-year-old rookie broke Mike Gartner's 20-year-old record when he did a lap around the rink in just 13.172 seconds. But that's not the most impressive thing about his performance. It's the fact he broke the record even though he almost fell down and briefly lost his balance.
That guy is fast. 
7. Pekka Rinne was out there stopping shots with a guitar
Now this is how you play to the hometown fans when you're in the country music capital of the world. You break out a guitar in the breakaway challenge like Pekka Rinne did during the breakaway challenge. 
Only Pekka Rinne knows how to stop pucks with a guitar. #NHLAllStar #Preds pic.twitter.com/b9R4Y3jBZz

— Nashville Predators (@PredsNHL) January 31, 2016
8. Jaromir Jagr just wants to go home
The 43-year-old forward made it very clear he did not want to be voted into the All-Star Game because he would rather be resting up for the second half of the season. The fans did not listen. But because Jagr didn't want the one-game suspension that comes with sitting out the game, he was there this weekend and doing his thing. He continued to play up the "I would rather be anywhere else" angle at the end of the night. Because the Eastern Conference won the skills competition, they had the opportunity to pick whether they would play the first or second game in the 3-on-3 tournament on Sunday. They chose to go first. When asked if there was any advantage to playing first Jagr said, "Well, if we win we get more time to rest, and if we lose I get to fly home sooner."
He then apologized to the Nashville fans and said he was just trying to be honest. 
9. Yes, that was Dierks Bentley scoring a goal
A Predators fan from the very beginning of the franchise, country music singer Dierks Bentley is one of the celebrity assistant coaches for Sunday's All-Star Game. He also made an appearance at the skills competition when he joined Predators forward James Neal during the breakaway challenge and scored a goal.
I get by with a little help from my friends… specifically, @DierksBentley. #NHLAllStar #Preds pic.twitter.com/fUbM1SrbCW

— Nashville Predators (@PredsNHL) January 31, 2016
10. John Tavares reminds us these guys are great hockey players, too
The skills competition is all about fun and games and playing to the crowd.
But it is also a nice reminder that these guys are pretty great at hockey as well, and New York Islanders forward John Tavares showed that in the accuracy shooting contest when he hit all four targets on just five shots. And only needed 12 seconds to do it.
Johnny T is locked in. #NHLAllStarhttps://t.co/E6eJmOxS38

— NHL (@NHL) January 31, 2016
Show Comments
Hide Comments
Our Latest Stories
Canada moves on to the championship series to play for the World Cup

The 22-year-old blueliner is looking for a fresh start somewhere else

It's Sid vs. Ovi on the world stage
USA goes winless for the first time ever at a best-on-best tournament

The World Cup semifinals are set: Canada vs. Russia and Sweden vs. Team Europe

It's hard to narrow down to just five reasons why the above statement is true