John Tavares done for NHL season with torn MCL, meniscus
John Tavares' injury in the Olympics will not only cost Canada but the Islanders too. He's done for the season after tearing his MCL and meniscus.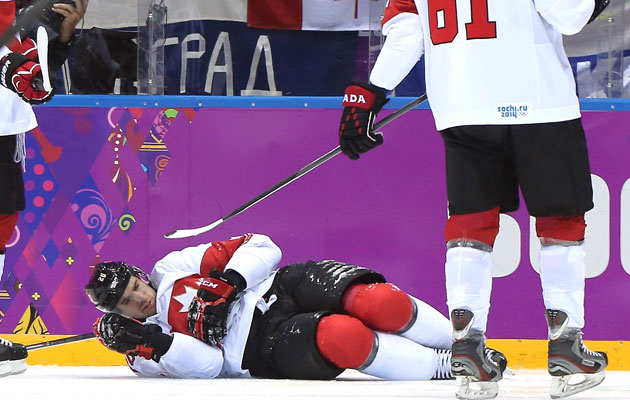 More NHL: Scores | Standings | League Leaders | Odds | Injuries | Power Rankings
Not only are John Tavares' Olympics over but his NHL season is finished as well.
The Canadian forward was injured in Wednesday's quarterfinal win over Latvia 2-1 when trying to squeeze through a hip check in the corner. He feel awkwardly and remained down on the ice for a few moments before gingerly skating off the ice. He didn't return in the game and afterward coach Mike Babcock anounced Tavares' Games were done.
There was no intial indication what that meant for his NHL team, the New York Islanders, but according to Arthur Staple of Newsday on Thursday morning, they know now.
BREAKING NEWS: John Tavares (knee) will miss rest of NHL season, source says. More to come. #Isles

— Arthur Staple (@StapeNewsday) February 20, 2014
MRI reveals torn MCL and torn meniscus for Tavares. May need surgery. Will be ready for training camp in September. #Isles

— Arthur Staple (@StapeNewsday) February 20, 2014
All things told, it could have probably been a lot worse for Tavares and the Islanders, assuming that he's able to return fully healthy by training camp. The Islanders are out of the playoff race this season and are going to look to sell assets at the deadline.
Still, it's anything but good for the Islanders, nor for fans of NHL players in the Olympics. This is the type of development that gives GMs and owners reason to really detest the Olympic participation. Tavares, who they play a lot of money, was seriously injured playing for a different team. This injury could have happened in any NHL game as well but that doesn't matter, it happened in Sochi and that makes it all the more frustrating.
While the Islanders have had their struggles this season, Tavares was having a fantastic season as he continues his growth toward NHL stardom. He had 24 goals and 42 assists in 59 games.
Pittsburgh also has been linked to Matt Duchene and could be in the mix for Tyler Bozak

Nashville extends its 24-year-old restricted free agent with what could be bargain numbers

Calgary forward is all for playing for the Flames, but he also likes the idea of going to...
Plans for renovating KeyArena are now also being overseen by NHL-to-Seattle hopefuls

With Leslie Anderson selling the Rockets, there is newfound hope for hockey in Houston

Pittsburgh Penguins' repeat Conn Smythe Trophy winner has more than hockey on his athletic...