John Tortorella on Canucks: 'Our team is not going to dive'
The Vancouver Canucks have long had a reputation for diving and whining. John Tortorella says neither will the be case anymore. He might want to tell Ryan Kesler.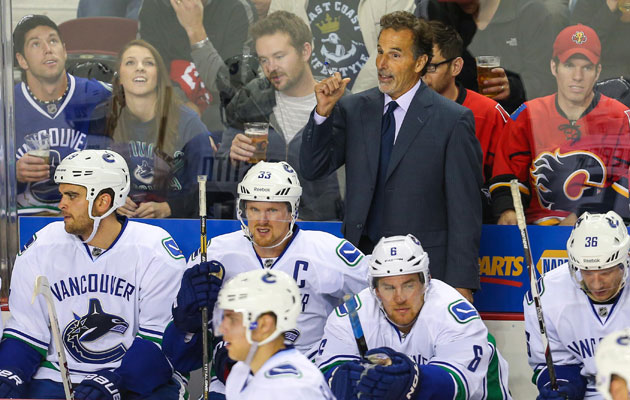 More NHL: Scores | Standings | League Leaders | Odds | Injuries | Power Rankings
The Vancouver Canucks have built up a terrible reputation over the years, a reputation that has proven to be nearly impossible to shake: they're a bunch of dirty divers.
This narrative hit a peak a couple of years ago in the Stanley Cup Final against the Bruins, a series that is remember as much for the wild storylines as much for the seven-game series. No matter what they did or said, the label was stuck.
It also led to some excellent GIFs like this one.
Well coach John Tortorella doesn't like this image and he is doing his best to change that. By the way, I assume he said this in a quieter, calmer fashion.
"When I wasn't coaching here, everybody outside thought Vancouver dove and did some whining. Our team is not going to dive," Tortorella said Thursday (via Dan Rosen). "I don't think there is much whining going on either.
"I'm certainly not trying to accuse the League or refs of that, but I know there's been a reputation ... sometimes that hangs around. It's my chance to say we're going to be an honest team, trying to be an honest team, and I hope we get some calls along the way."
See, it's simply a better league when Torts is around.
Now what was it that prompted Tortorella to start talking about his team's old reputation? The fact that the Canucks aren't getting penalties called in their favor.
Canucks are 26th in NHL in power play opportunities despite being tied for most games played at 11. Yes, Tortorella has a thought on that.

— Dan Rosen (@drosennhl) October 24, 2013
He has a point when you look at it like that, doesn't he? If anybody can change the reputation of the Canucks perhaps it's Tortorella. Now he has made the Canucks a mean, shot-blocking machine. The only diving they're doing is in front of pucks.
Besides, it helps that Max Lapierre is not in Vancouver anymore. He, along with Ryan Kesler who is capture so perfectly in that above GIF, always seemed to be two of the biggest offenders in this regard.
Then again, it probably doesn't help that Kesler just did this the other day.
Show Comments
Hide Comments
Our Latest Stories
For first time since 2005-06, Edmonton is headed for a Stanley Cup run

With loss to Hurricanes, Detroit eliminated from postseason contention for first time since...

Flames-Capitals would pit underdogs vs. title favorites, while Pens-Oilers would showcase elite...
The Ducks are outshining their Pacific competition, while the Habs and Predators offer lots...

Big losses by the Sharks and Blackhawks have Washington back on top

On day he signs entry-level deal with Canucks, Boeser scores Vancouver's third goal in 4-2...