John Tortorella: 'We got spanked in overtime'
New York Rangers head coach John Tortorella was not happy with the questions he was asked or his team's performance in overtime on Thursday.
More NHL Playoffs: Scores | TV Schedule | Expert Picks | Odds | Mock Draft | Rumors
When it comes to his post-game press conferences New York Rangers coach John Tortorella is definitely in playoff form. Especially when it came to his meeting with the media following the Rangers' Game 1 loss in Boston on Thursday night.
He was short with his answers (he used 15 words to answer the first two questions he was asked), agitated, and even a little quotable.
Things got off to a rocky start when he told a reporter that his questions were "way to complicated," and that he had no idea what was being asked.
After a couple more brief answers he finally made it to the root of the problem on Thursday night: "I thought it was pretty even going into the overtime, but we got spanked in the overtime."
That pretty much sums it up. Also: When you get this look halfway through your question, you're probably not going to get the answer you're looking for: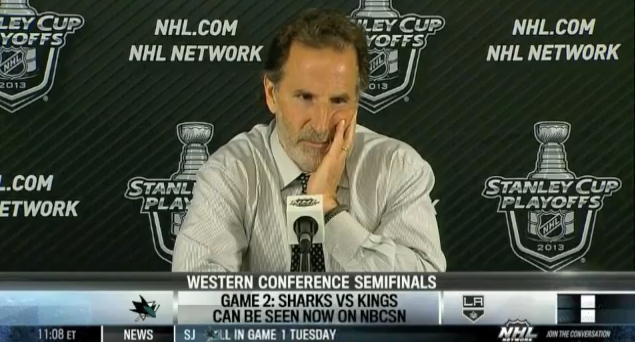 Show Comments
Hide Comments
With the playoff field cut in half, the stakes keep getting raised

Green has led Vancouver's AHL affiliate since 2013

Series schedules, results and updates from the second round of the Stanley Cup race
Here's how to stay on top of all of the NHL's second-round playoff series, which begin Wed...

Series schedules, results and updates from the first round of the Stanley Cup race

Ottawa took a 3-2 decision to send Boston home, and Washington outlasted Toronto, 2-1