Ken Hitchcock on Halak, Elliott: 'We're going to keep playing both'
Jaroslav Halak came into the season as the Blues' No. 1 goalie but he and Brian Elliott are back to being 1 and 1A. 'We're going to keep playing both,' St. Louis coach Ken Hitchcock said.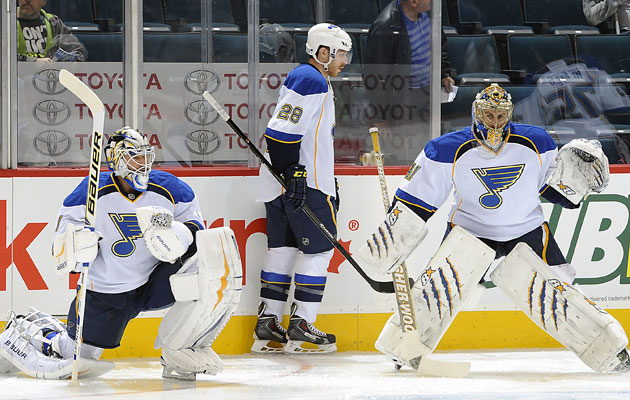 More NHL: Scores | Standings | League Leaders | Odds | Injuries | Power Rankings
When the season began, the St. Louis Blues seemed set on having one clear starter in net -- Jaroslav Halak. For a couple of seasons he and Brian Elliott had been competing in the cage and sharing the duties, making for interesting decisions come playoff time but the plan was that would come to an end this season.
It started off that way with Halak getting true No. 1 minutes but things have of course gone off schedule and the two are back to sharing the net as they did two seasons ago when they combined to with the Jennings Trophy.
An illness to Halak gave Elliott a shot at starting and he took full advantage. He has now played in 20 games this season, posting a 13-2-2 record with a .925 save percentage. Halak meanwhile is 19-6-3 with a .912 save percentage in 30 games. It's tough not to keep playing both so coach Ken Hitchcock won't even try. From Jeremy Rutherford of the St. Louis Post-Dispatch:
"It felt good, so we did it," Hitchcock said [of starting Halak in his first game back]. "Brian has played well, Jaro has played really well, both guys deserve to keep playing, so we're going to keep playing both guys.

"With so many hockey games -- this is six in 10 nights -- we know each guy is probably going to have to play three games. So we just felt like Jaro played very well, let's keep that one going."
There are a few interesting angles at play on this. For starters, both goalies are unrestricted free agents at the end of the season so splitting the job will likely affect how the Blues treat that situation. Secondly, the Blues have been mentioned as a team that would be most likely to land Ryan Miller should the Sabres trade him. Well if the Blues are back to having a two-goalie system that Hitchcock likes and is working, that would seem to take them out of the Miller equation. Third is how it impacts prospect Jake Allen, who played pretty well last season amid Halak's injuries and Elliott's struggles.
From the sounds of it Halak will remain the No. 1 guy but instead of being a 1-2 combo, it looks like the Blues are back to having a 1-1A combo. There are definitely worst problems to have.
Show Comments
Hide Comments
Even without a can't-miss prospect, the first round features a handful of solid center pic...

Casey Mittelstadt goes off the board in the top 10 picks of the 2017 NHL Entry Draft

New Jersey makes the Halifax Mooseheads star the first overall selection in this year's dr...
Washington saves a key piece from hitting free agency but probably hurts itself in the long...

Pens open season on Oct. 4, while the Golden Knights begin play Oct. 6 on the road

With the NHL trade market heating up, the Blackhawks shed one scorer for another