Kings championship run was one of the quickest ever
The Los Angeles Kings won the Stanley Cup on Monday night, and they needed just 20 playoff games to do it. That's one of the fastest runs over the past 25 years.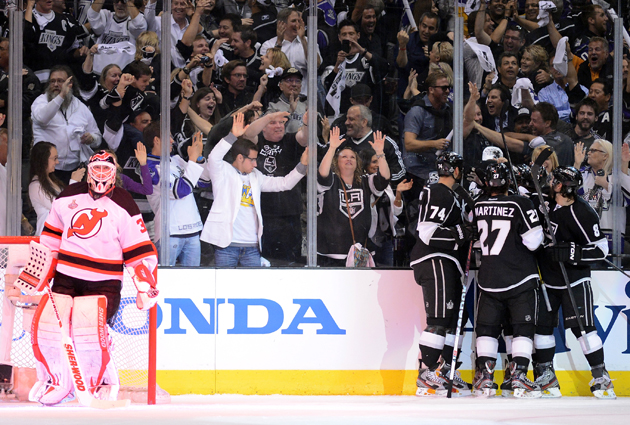 The Los Angeles Kings' run through the Stanley Cup Playoffs was a historic one. (Getty Images)
The Los Angeles Kings won their first ever Stanley Cup on Monday night with a 6-1 dismantling of the New Jersey
Devils
, completing one of the most dominant postseason runs we've seen in the
NHL
over the past 25 years.
They jumped out to a 3-0 lead in every series they played, beat the top three seeds in the Western Conference, only needed to play one Game 6 (Monday's game), and outscored their opponents by 27 goals.
They also needed just 20 playoff games to complete their championship run.
Since the NHL went to its current playoff format that requires four best-of-7 series for the 1986-87 season, that is one of the quickest and most efficient playoff runs by any team. The Kings join the the '97
Red Wings
, '95 Devils and '93
Canadiens
as teams to win the Cup in just 20 playoff games.
The '88
Oilers
were the only team over that stretch to do it faster.
That Oilers team did it with a 16-2 record that was completed with a sweep of the Boston
Bruins
. But even that run was more like 18-and-a-half games. With the Oilers going for the sweep in Game 4, the game had to be postponed midway through the secod period due to a power outage at the old Boston Garden. The Oilers went on to win the restarted Game by a 6-3 margin.
More on Kings-Devils
More NHL coverage
In the end, this Kings team did something pretty special. As I argued last week
this isn't a team that simply got hot at the right time
. This is a great team loaded with All-Star level players up and down the roster that has completely dominated the NHL since the middle of December. And especially after they acquired forward
Jeff Carter
from the Columbus
Blue Jackets
in late February.
After Carter was added to the lineup the Kings went on to finish the regular season and playoffs with a 29-9-3 record, a pace that would be good enough for about 122 points over an 82-game season.
Since December 13, when the Kings were 13-13-4, their lowpoint of the season, they went on a 43-18-11 run.
For more hockey news, rumors and analysis, follow @EyeOnHockey and @agretz on Twitter and like us on Facebook.
The league shoots down a report that NHL players could still be permitted to go to the Oly...

The 45-year-old forward remains unsigned but has shown little desire to hang up the skates

Pittsburgh also has been linked to Matt Duchene and could be in the mix for Tyler Bozak
Nashville extends its 24-year-old restricted free agent with what could be bargain numbers

Calgary forward is all for playing for the Flames, but he also likes the idea of going to...

Plans for renovating KeyArena are now also being overseen by NHL-to-Seattle hopefuls