Kris Letang, Beau Bennett cleared to practice in full with Penguins
Kris Letang and Beau Bennett have been cleared to practice in full with the Penguins, great news for them and Pittsburgh.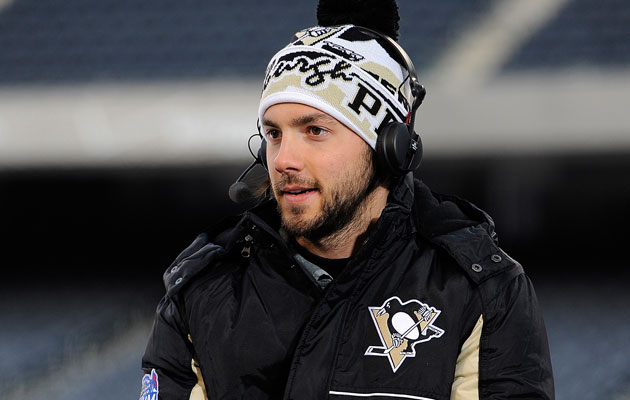 More NHL: Trades | Scores | Standings | League Leaders | Odds  | Power Rankings
After being swept by the rival Philadelphia Flyers in a weekend home-and-home, the Pittsburgh Penguins could really stand to hear some good news and hear good news they did on Sunday.
Ravaged by injuries all season long on both the front and back ends, the Penguins are a big step closer to getting two players back. Both star defenseman Kris Letang and talented young forward Beau Bennett have been cleared for practice.
Both Bennett and Letang have been cleared for full practice participation #Pens

— Pittsburgh Penguins (@penguins) March 16, 2014
On both fronts it's obviously excellent news for the Penguins who could use the boosts from both players but it's tremendous news on Letang. You'll recall that he suffered a stroke before the Olympics and there was a lot of pessimism that Letang would return this season. When he spoke about what happened, Letang said he was hopeful but not sure if he'd be back. While this doesn't mean he's going to return for this season it's sure a tremendous step in that direction.
There still has to be plenty of caution with Letang and some concern after such a scary incident in which it was also discovered he has a small hole in his heart but there is still plenty of time to try and ease back into action before the playoffs, when the Penguins could really stand to be a full strength.
While Letang is the big name, the return of Bennett could be equally huge. The Penguins are not the deepest team at forward and have been especially banged up lately with more injuries to guys like Pascal Dupuis, James Neal and Chris Kunitz, they've had to rely on guys like Tanner Glass to play with Sidney Crosby. Bennett is anything but proven yet having played in just 38 NHL games but his skill would be welcome back on the ice once he is over his wrist surgery.
Show Comments
Hide Comments
Our Latest Stories
From the Caps' goaltender to the star-studded headlining duo of Chicago's offense, these guys...

Scoring his 41st goal of the year in a 3-1 win over the Buffalo Sabres, the Pittsburgh Penguins...

A nightmare comes to life with Gary Bettman downplaying the idea of sending NHL stars to South...
The resurgent Lightning are primed to sneak into contention, while the once-hot Islanders are...

Capitals are first team to earn a playoff berth, but the Blackhawks are the hottest of the...

Earning their 100th point of the year in a big win over Tampa Bay, the Caps set the stage for...