Kris Letang, Penguins agree to eight-year, $58 million extension
Kris Letang is sticking around in Pittsburgh after all. On Tuesday, the team announced they've agreed on an eight-year, $58 million extension.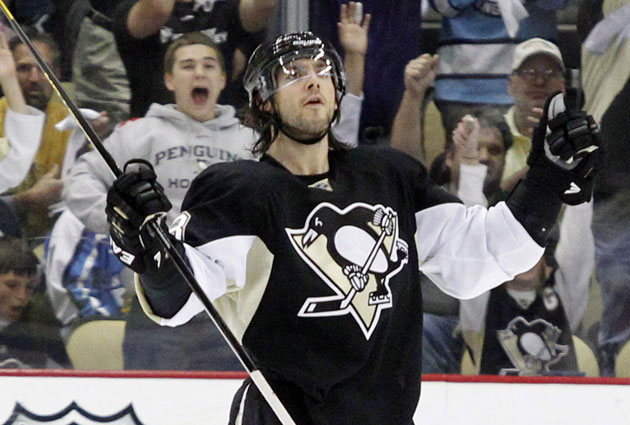 More NHL offseason: Rumors | Top 50 Free Agents 
It took a little bit of time to finish it, but Kris Letang has a new deal with the Pittsburgh Penguins.
The team announced on Tuesday that it has agreed to terms with Letang, 26, on a new eight-year contract that will pay Letang $58 million. That's a $7.25 million cap hit per season. The new contract kicks in after next season and will run through 2021-22.
Yes, it's a very expensive deal. But in today's NHL, is it really that crazy? Letang is one of the top defensemen in the league, mostly known for his offensive abilities. This new contract means that he has the third-highest cap hit in the NHL among defensemen behind only Shea Weber and Ryan Suter. Considering Letang was a Norris Trophy finalist this season, is it really that far off base? I think not. That's what good players cost in today's game.
There were a lot of doubts about whether the Penguins could fit Letang into their future plans with Sidney Crosby, Evgeni Malkin and James Neal locked into expensive deals. But keep in mind, Letang's contract is not for this coming season -- when the salary cap is going down -- but starts the season after. By that time, the cap will begin to rise and the Penguins should be in under it with a little room to spare.
It has been a whirlwind bit of negotiations. For a while, it appeared the Penguins had resigned themselves to the fact that they were going to have to trade Letang at the draft like they did last summer with Jordan Staal. However, word came down shortly before the draft that a deal was imminent, immediately squashing any trade talk.
A few days of ironing out the details later, and here we are. Letang is going to be a Penguin for many years. It gives the Pens one heck of a core to build around for a long time. In other words, their championship window isn't close to closing.
This past season, Letang had five goals and 33 assists in just 36 games. His defense takes a lot of heat, but he was genuinely not bad this year until the Eastern finals against Boston.
Show Comments
Hide Comments
Ottawa's defense came up big in Game 1 to beat New York, and the Penguins beat the Capitals...

Series schedules, results and updates from the second round of the Stanley Cup race

Subban had three points in Nashville's 4-3 win over St. Louis in Game 1, while Edmonton dropped...
Washington and Pittsburgh figure to go neck and neck, as do Anaheim and Edmonton

Cassidy went 18-8-1 after replacing Claude Julien in 2016-17

With the playoff field cut in half, the stakes keep getting raised