League makes offer to NHLPA; more talks scheduled through Friday
The NHL submitted another offer to the players on Tuesday. More talks are scheduled through Friday of this week.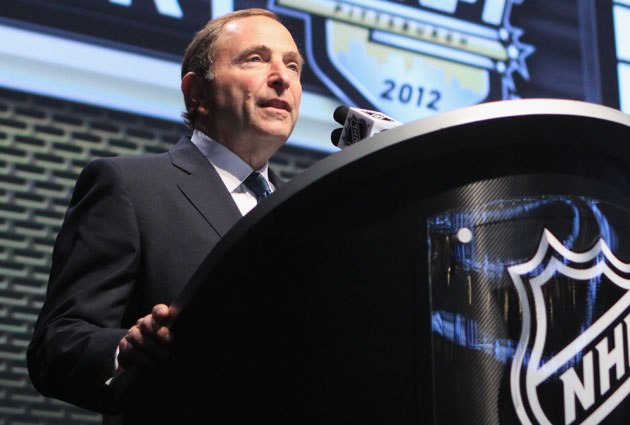 The NHL made another proposal to the players on Tuesday. More talks are scheduled through Friday. (Getty Images)
As the clock continues to tick down toward the September 15 deadline, the NHL and the NHL Players' Association met on two seperate occassions on Tuesday afternoon and continued to work on a new collective bargaining agreement.
The most noteworthy development to come out of Tuesday's round of talks was that the league presented the players with yet another proposal. No details have been released on the contents of said proposal, but the players are expected to respond to it, perhaps as soon as Wednesday.
The NHL seems to think there was significant movement, but how exactly much movement remains to be seen and which side of the fence you're currently sitting on. The league thinks a lot. The players side seems to think it's "different." Some members of the media (like Renaud Lavoie of RDS) seem to think it's not all that different from the league's initial proposal.
Commissioner Gary Bettman said the offer had "significant and meaningful movement," while also adding that, in his view, the two sides are "not far apart" on revenue sharing. Though, that could be an empty statement if the players don't share his definition of "significant" and "not far apart."
Donald Fehr, the head of the players union, said the league's proposal was different "in some respects," and that it is one they intend to respond to after looking it over on Tuesday evening.
The two sides are scheduled to meet every day through Friday of this week, and that might be the biggest positive (even if it's the only positive) at this point: they're at least still on speaking terms, a point that was made by Mathieu Darche, one of the players (currently an unrestricted free agent) on the negotiating committee.
As of Tuesday afternoon we're 18 days away from that September 15 deadline, and if no agreement is reached by then the NHL will be headed for yet another lockout.
Getting excited yet?
For more hockey news, rumors and analysis, follow @EyeOnHockey and @agretz on Twitter and like us on Facebook.
Show Comments
Hide Comments
Here's how to stay on top of all of the NHL's second-round playoff series, which begin Wed...

Series schedules, results and updates from the first round of the Stanley Cup race

Ottawa took a 3-2 decision to send Boston home, and Washington outlasted Toronto, 2-1
Stevens was L.A.'s interim coach for four games in the 2011-12 season

St. Louis, New York and Edmonton eked out victories that eliminated Minnesota, Montreal and...

Fresh off the Predators' sweep of the Blackhawks, Gnash is fired up for his team