LOOK: Patrick Sharp photobombs newlywed's picture from ice
One couple held their wedding reception at United Center and decided to take some pictures by the ice during warmups. Patrick Sharp couldn't resist getting in the shot.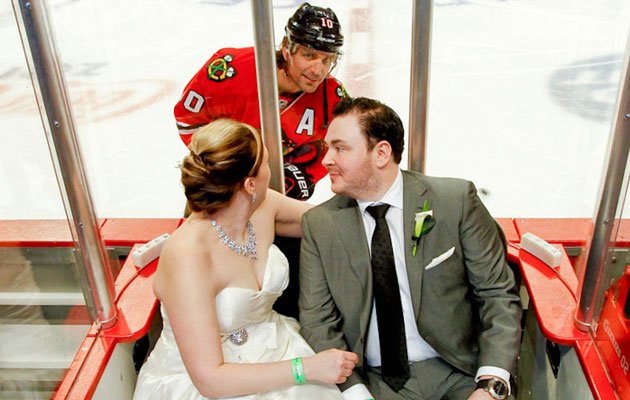 More NHL: Trades | Scores | Standings | League Leaders | Odds  | Power Rankings
Take a peak through any couple's wedding album and surely you'll find one or two pictures of somebody sneaking in a photobomb of some sort, doing something goofy and light-hearted in the background. None of them can compete with one Chicago couple's photobombed wedding picture.
A newlywed couple in Chicago held their reception at the United Center in one of the suites with the Carolina Hurricanes in town. The couple took the chance to go down to the ice level and snap some pictures from in between the benches in warmups.
That's when Blackhawks star forward Patrick Sharp played the photo's equivalent of Best Man. As in, "this is just the best, man!" (Photos from Ruthie Hauge Photography by way of the Blackhawks)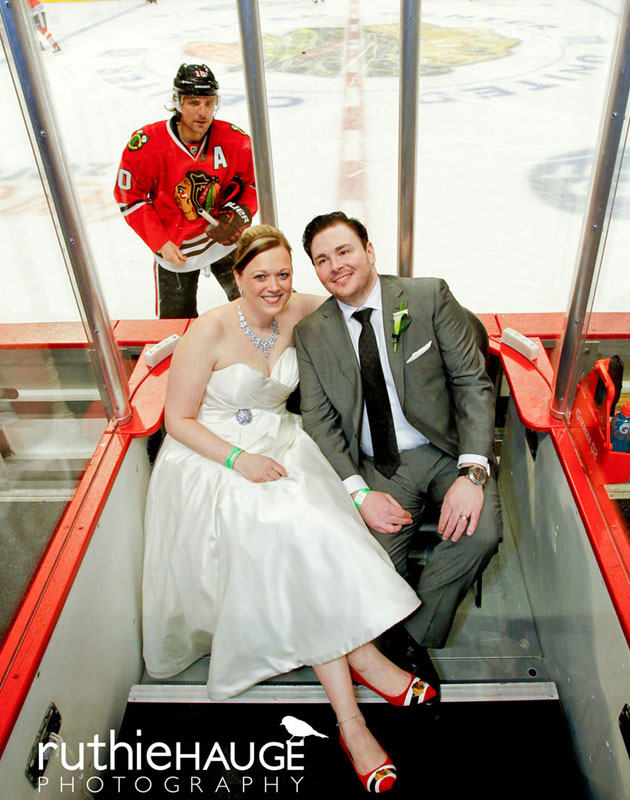 Congratulations to the newlyweds not only on their marital bliss but for having one of the best wedding album photos you'll ever see. Sharp really is a star.
PS: Kudos to the beautiful bride for the Blackhawks shoes to go with her white dress. That's dedication to the fullest.
S/t Reddit
Show Comments
Hide Comments
Replicating its Game 6 dominance -- everywhere but the scoreboard -- might not be easy for...

Ottawa recovers from a 7-0 loss in Game 5 to quiet Pittsburgh's offense

Series schedules, results and updates from the Eastern and Western conference finals
Out for the remainder of the postseason, Johansen is still part of the Predators' playoff...

Nashville refuses to back down despite taking fewer than 20 shots against fill-in goalie Jonathan...

Anaheim will be without two key forwards and possibly its No. 1 goalie in Nashville on Mon...