Marc-Andre Fleury posts second straight shutout, quieting doubts
Marc-Andre Fleury stopped all 57 Rangers shots in a 48-hour span to bump his save percentage this postseason to .925. Not bad for a goalie known as a playoff choker.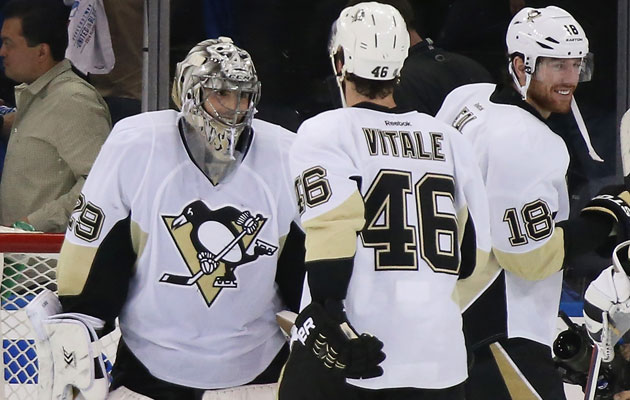 More NHL Playoffs: Schedule, TV listings | Expert Picks | Bracket | Scores | Odds
Marc-Andre Fleury has been a target of constant criticism in the playoffs in recent years but it was pretty much all warranted. There was no sense arguing it; he was awful in the postseason and it cost Pittsburgh some shots at the Stanley Cup in the prime years of their superstars' careers.
The key part of all that, though, is that he was awful. This postseason and more specifically this series, he has not been awful at all. It's actually a bit the other way, right now he's the biggest reason the Penguins are leading this series with the Rangers.
Sure is quite the departure from the reputation Fleury has accumulated ever since leading the Penguins to the Stanley Cup five years ago.
Fleury faced 35 shots from the Rangers on Monday night and stopped all 35. That comes after facing 22 shots on Sunday night and stopping all 22. For those counting, that's 120 consecutive minutes that Fleury hasn't given up a goal in these playoffs and 57 straight saves, all in 24 hours. Yes, that's pretty good.
It's so good that the back-to-back shutouts hasn't been done against the Rangers in a verrrry long time.
#NYR blanked in consecutive playoff games for first time since 4/13-4/15/1937 by #redwings. Also happened in 1931 by Chic. @PeterBotte

— Eric Hornick (@ehornick) May 6, 2014
This is the same Fleury that was benched last postseason for Tomas Vokoun in the first round. This is the same Fleury that has a save percentage coming into this postseason hovering around the .900 mark.
This is also the same Fleury who started seeing a sports psychologist to help him transition his regular-season success to the playoffs. He has remained as positive as he can while taking a beating from the media and fans and now it's starting to pay off.
It's not just what he's doing against a Rangers team that has troubles scoring. Since Fleury had a bit of a meltdown in Columbus when his mistake ruined an otherwise strong game and led to a Penguins loss, he has been at his best. He has rebounded very well while sucking up the rebounds from the other teams. In the five games since then he has allowed just seven goals against, four of those five games have been wins.
Overall now his save percentage this postseason is up to .925, which is better right now than Henrik Lundqvist in the net opposite him.
No doubt it's going to take more from Fleury to convince people that he's not the same ol' Marc-Andre in the playoffs, a couple of shutouts are not going to be enough to change a reputation so suddenly. But what he's doing right now is an awfully good start.
Show Comments
Hide Comments
Series schedules, results and updates from the second round of the Stanley Cup race

New Jersey claims No. 1 draft pick after having an 8.5 percent chance of earning the top s...

Ottawa takes a 2-0 lead over New York, and Pittsburgh does the same against Washington
St. Louis connected on one of five power plays to tie the series while Anaheim loses again...

Ottawa's defense came up big in Game 1 to beat New York, and the Penguins beat the Capitals...

Subban had three points in Nashville's 4-3 win over St. Louis in Game 1, while Edmonton dropped...