Marc Staal looking to be third brother to win Cup, surpass Sutters
If the Rangers can win the Stanley Cup, Marc Staal will join brothers Eric and Jordan as the only trio of brothers to win the Cup as players, doing something even the Sutters didn't.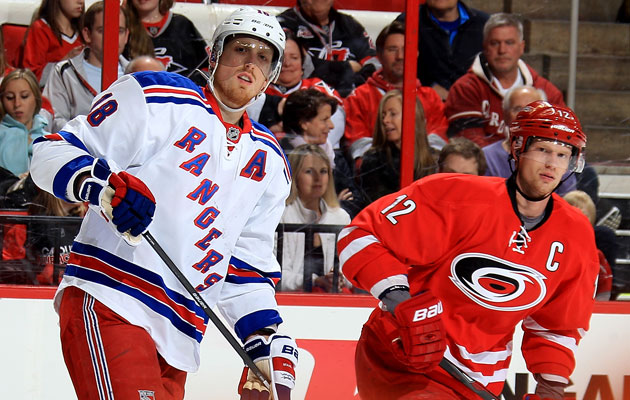 More NHL Playoffs: Schedule, TV listings | Expert Picks | Bracket | Scores | Odds
There is more than just the Stanley Cup on the line when the Ranges and Kings begin the Stanley Cup Final on Wednesday in Los Angeles; there is also the title of hockey's first family.
Certainly the game has had many great families throughout its history. Phil and Tony Esposito were all right, so were the Gretzkys (bar trivia: Wayne and Brent Gretzky have the most points of any two brothers with 2,861 thanks to four from Brent) and many, many more. But really for hockey's first family it has to be the Sutters.
The first generation alone produced six brothers in the NHL; Brian, Duane, Brent, Ron, Rich and, of course, now-Kings coach Darryl. Brandon Sutter now plays with the Penguins to lead a second generation with more Sutters in the prospect ranks.
During the Final, Darryl will be coaching not merely for a second title in three years but for his family to keep the title at least as hockey's most decorated family. That's because on the ice for the Rangers will be Marc Staal. He will be looking to do something for his family that hasn't been done before, not even by the Sutters: become the third brother to win a Stanley Cup.
Well let's amend that slightly; the third brother to win a Stanley Cup as a player, at least. Both Brent and Duane won Stanley Cups early in their careers and then Darryl added another Cup to the family as a coach with the Kings in 2012. But if Darryl can't repeat that feat that means Staal will become the third brother in his family to hoist the Cup.
Eric Staal was the first brother to get to the top the mountain, winning the Cup with the Hurricanes in 2006 and then brother Jordan followed suit in 2009 with the Penguins.
Now teammates in Carolina, where fourth Staal brother Jared is in the system as well, Jordan and Eric are watching from home rooting for Marc to join them with their names engraved forever on the Cup as they told Arthur Staple of Newsday:
"We all want to see him get it done," Eric Staal said the other day by phone from Thunder Bay, where he, Jordan and Jared already have begun their offseason workouts. "What he's gone through the past few years, not just physically but mentally, it's great to see him not just playing for a Cup but being such a big part of it for them."

The Cup parties at Henry and Linda Staal's home in Thunder Bay have been fairly epic, though Marc followed hockey player superstition and never once touched the Cup when Eric and Jordan brought it back.

"Took some pictures," Marc said, "but never touched it."
It wasn't that long ago that it was a serious question if Marc would even get the chance to join his brothers in the quest for the Cup, not after he took a puck to the face last season in a brutal incident that nearly cost him his eyesight.
Now he's back to being a critical component of the Rangers' blue line, a group that will be tasked with shutting down what has become a potent Kings offense. If the Rangers are to knock off the Kings and help Staal put his name on the Cup with his brothers', he'll have to be a huge reason why.
Show Comments
Hide Comments
Series schedules, results and updates from the second round of the Stanley Cup race

Here's how to stay on top of all of the NHL's second-round playoff series, which begin Wed...

Series schedules, results and updates from the first round of the Stanley Cup race
Ottawa took a 3-2 decision to send Boston home, and Washington outlasted Toronto, 2-1

Stevens was L.A.'s interim coach for four games in the 2011-12 season

St. Louis, New York and Edmonton eked out victories that eliminated Minnesota, Montreal and...