Mark Messier not worried about Rangers, sees big second half coming
From myriad projects to endorsement deals, Mark Messier stays busy but not too busy to not follow the Rangers. He preaches patience and says he sees a big second half in store.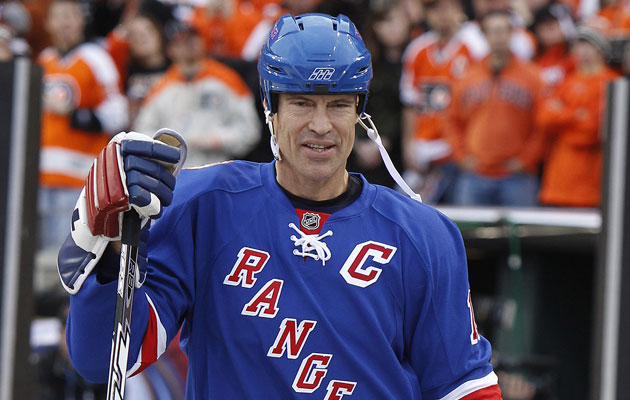 More NHL: Scores | Standings | League Leaders | Odds | Injuries | Power Rankings
It has been almost 20 years since the New York Rangers last won the Stanley Cup, 20 years since Mark Messier cemented himself as a legend in the Big Apple. The mere mention of his name is enough to lift the spirits of a Rangers fan
With the Rangers limping along under first-year head coach Alain Vigneault this season, it almost feels like a heck of a lot longer than 20 years since Messier guaranteed a victory in the Eastern Conference finals before hoisting the Cup a couple of weeks later.
Yes, those days are long gone at this point but Messier's aura in New York remains, as does his presence. Messier isn't around the club much at all but he remains in the Big Apple, living right up the road in Connecticut where his son and daughter both play hockey. He stays plenty busy but there is always time to keep up with hockey.
"I keep track of the whole the NHL; the teams, the players, the stories that unfold on a day to day basis," Messier said in an interview with CBSSports.com. "My son is 10 and playing hockey, my daughter is eight and playing hockey. We're avid fans."
Seeing as how he remains in the area where his career came to a close 10 years ago, that absolutely includes keeping tabs on his old team, the Blueshirts. Things haven't been going so well for the Rangers this season, they are below .500 and if they played in any other division they'd be in a lot worse shape.
But have no fear, Rangers fans, the Captain isn't worried.
"When you implement new systems, new coaches, new people it takes a while," Messier explained. "You watch the games and see a lot of synergy and cohesion that needs to be in place in order for a team to be successful. If they are hesitating at all normally that doesn't pan out very well."
That might explain their early season struggles and substandard record. It also helps to explain why Messier isn't all that concerned.
"I expect the Rangers to have a strong second half," he said. "It's a long season, they have a lot of great players. I wouldn't be willing to jump off the ship quite yet."
The Rangers have been dealt their fair share of injuries so far, but that's like every team. Still, losing not only a player of Ryan Callahan's level but also a leader of his level, well that's something Messier can understand very well. He knows what Callahan does as the Rangers captain, Cally has been in the running for the Mark Messier Leadership Award in the past. He's a big part of the club.
When players like him are missing from the lineup, you notice.
"It's huge any time you have injuries to your captain and your leader. He leads by example on the ice and he tows everybody along with him with the energy on the ice and the way he plays," Messier said. "That's a big loss. Marc Staal is a big loss on defense. But in the end you never make excuses for poor performance, every team has to deal with it and it comes down to the strength of the organization to fill in those holes."
It wasn't that long ago that Messier's name was being mentioned in conjunction with the Rangers' head coaching vacancy, eventually filled by Vigneault. Would the team look any different if he were the man behind the bench?
Who knows. For his part, Messier said he doesn't think about, he's just a bit too busy doing everything else that goes along with being one of the great players in hockey history and a legend in the New York area.
"Right now I'm putting all my efforts into the Kingsbridge National Ice Center," Messier said when asked about coaching, referring to a big development going up in the Bronx. "In '94 we inspired a generation of fans and kids to play the sport only to find out it wasn't that easy in this area. It's an unbelievably gratifying experience."
That's not all that keeps him busy these days, Messier is also a spokesperson for the new Can-Am Spyder, tying in his love for hockey (the NHL is a main sponsor) and his long love of the outdoors and the vehicles that come with it.
"I'm the guy that has ridden everything from the bush to the water," Messier said. "The stability, control, comfort and ease of the ride is incredible and I think it will appeal to a lot of people." In other words, he likes and believes in the Spyder.
There are enough endeavers in Messier's life to keep anybody busy but not enough to take away his love and interest in the sport of hockey. He played it for years, excelled in it. He knows a thing or six about winning a Stanley Cup, that's why when he looks at his former team on Broadway right now he preaches patience.
"It's a grueling 82-game schedule where anybody in the league can beat anybody on any given night," Messier said. "If you're not at your best the chances of winning are diminished significantly. It's up to the team and teams around the league to play at a consistent level. It's hard to win."
Seeing how the Rangers haven't even been back to a Cup Final in the 19 years since (and not looking so good in the 20th), there won't be too many New Yorkers that will disagree with that idea, that it's hard to win. Though sometimes it's tough to take from a guy like Messier who often times made it look so easy whether it was in New York or Edmonton.
Messier on Edmonton
Of course the Rangers aren't the only former team that Messier keeps up on, there are also the Oilers (and Canucks, we haven't forgotten the stint in Vancouver). This was the year that a lot of people felt the team would take the next step but it hasn't happened. The Oilers are at the bottom of the West. What does Messier see there?
"They're a young team, they're finding their way, learning what it takes to be competitive and to be professional. Then on top of that they are learning what it takes to be a winner on this level. That doesn't happen over night, it takes a lot of time and experience. They are still at the junction with their team and the rebuild phase where you can get the players together and then now you've got to become a team and learn how to be a winner.
"There are ups and downs throughout the year but they've shown incredible talent at times and incredible lack of experience at other times. Dallas Eakins has come in there and is really working with the players, instilling a way of play that will make them successful. But overall I like what I've seen out of them."
Show Comments
Hide Comments
Even without a can't-miss prospect, the first round features a handful of solid center pic...

Casey Mittelstadt goes off the board in the top 10 picks of the 2017 NHL Entry Draft

New Jersey makes the Halifax Mooseheads star the first overall selection in this year's dr...
Washington saves a key piece from hitting free agency but probably hurts itself in the long...

Pens open season on Oct. 4, while the Golden Knights begin play Oct. 6 on the road

With the NHL trade market heating up, the Blackhawks shed one scorer for another