Mark Streit, Flyers reportedly agree on new 4-year, $21M contract
Mark Streit, whose rights were acquired by the Flyers, will be sticking in Philadelphia after reportedly signing a four-year contract.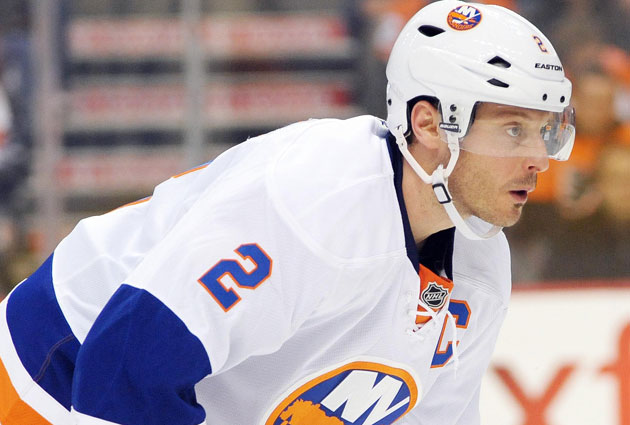 More NHL Playoffs: Scores | TV Schedule | Expert Picks | Odds | Mock Draft | Rumors
After acquiring his rights in a trade last week, the Philadelphia Flyers have come to terms with soon-to-be free agent defenseman Mark Streit.
The former Islanders captain, 35, reached a deal with the Flyers on a new contract for four seasons, according to TSN's Darren Dreger. As of yet there has been no salary reported, but it will likely be expensive considering what he was almost certain to fetch as a free agent with a weak D market.
UPDATE: It didn't take long for the money to come out. From Dreger:
Streit is 4 years at $5.25 mil per. Confirmed. (No seagulls).

— Darren Dreger (@DarrenDreger) June 17, 2013
Oh, oh Flyers. That's sure a lot of dough for a 35-year-old offensive defenseman. Somewhere Kris Letang was heard partying.
For the record, GM Paul Holmgren had only this to say about the report:
"We continue to have talks with Mark's agent. Although there is nothing to report, we remain confident that we will get something done."
One risk in the deal, no matter the price, is that it's a four-year deal for a player 35 years old. That means that his contract will be on the hook with the Flyers for the duration of it, no matter if he retires or not. Not to mention there is concern about a player who is age-declining.
That said, durability hasn't been a big problem for Streit in the last two seasons. He did miss the entire 2010-11 campagin but since returning, he hasn't missed a game, including playing all 48 for the Isles as they returned to the playoffs this past season.
The Flyers do have a need at defense and Streit can still play, so that owuld explain their interest and apparent overpayment. He's certainly a stronger player in the offensive zone, and the Flyers need help in actually defending, but it still helps to address the concern on the Philadelphia blue line. They will have to do some salary cap trimming, though, so you can probably kiss Danny Briere and Ilya Bryzgalov good bye via amnesty buyouts at this point.
This season Streit had six goals and 21 assists for the Isles, averaging 23:01 per game of ice time.
Show Comments
Hide Comments
Our Latest Stories
Big losses by the Sharks and Blackhawks have Washington back on top

On day he signs entry-level deal with Canucks, Boeser scores Vancouver's third goal in 4-2...

The Penguins' leader in highlight reels has been extra feisty on some cringe-worthy cheap shots...
2017 SAHP NHL Global Series will pit Ottawa and Colorado against each other in Stockholm

Finland has churned out some winners in a league filled to the brim with diverse players

From the Caps' goaltender to the star-studded headlining duo of Chicago's offense, these guys...