Martin Brodeur calls Yankee Stadium ice worst he ever played on
Martin Brodeur didn't have a great day on Sunday, giving up six goals in two periods at Yankee Stadium. Afterward he called the ice the 'worst ice I ever played hockey on.'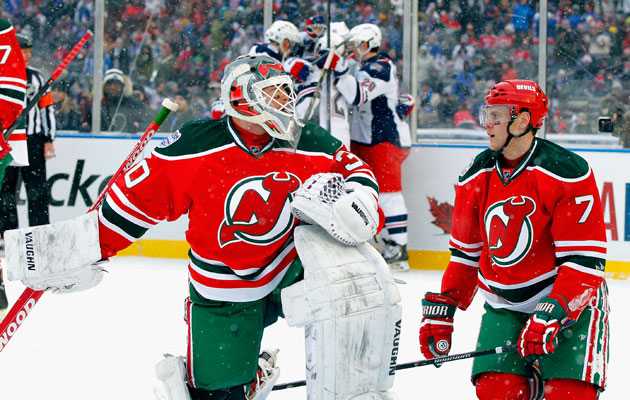 More NHL: Scores | Standings | League Leaders | Odds | Injuries | Power Rankings
You never know what you're going to get from the ice surface when you take the game away from the sheltered confines of NHL arenas and go outdoors on rinks that were built in a matter of weeks under the pressure of Mother Nature. Still, there have been nothing but positive reviews of the ice in the two games this weekend, and that included a game in warm Southern California.
Well we'll take that back, there was one complaint courtesy of legendary Devils goaltender Martin Brodeur about the sheet at Yankee Stadium.
Brodeur: "Worst ice I ever played hockey on."

— Rich Chere (@Ledger_NJDevils) January 26, 2014
Considering Brodeur has been playing in the NHL for 20 seasons now, he has a lot of experience to draw on when he makes a statement like that. He's been around and seen plenty of ice sheets, so when Brodeur says it's the worst he's played on, that's saying something.
Of course, that could merely be the six goals against on 21 shots talking for Brodeur on that one. He got the start for the Devils at Yankee Stadium, something that was given out as much or more for the simple fact that Brodeur is a Devils legend and it was the right thing to do to give Brodeur the honor. Two periods later, he was riding the pine after a brutal day for he and his teammates.
After the game his coach Peter DeBoer talked about the ice and was much more neutral on his take, unwilling to blame his team's 7-3 loss on the rink.
"Yeah, everything was great," DeBoer said. "I'm not going to complain about anything. You're not going to get perfect conditions when you stick a rink in the middle of a baseball stadium in February or late January, but I thought the entire event, from the ice to the production to the environment to the crowd, was outstanding."
Certainly the puck did its fair share of hopping and wouldn't always stay on the ice the way it normally will, but the Rangers didn't seem to have too many troubles passing that bouncing puck. Everybody dealt with the same ice and it didn't seem to deter the Rangers all that much in their game.
On the whole, Brodeur said he enjoyed the experience, it's just understandable he wasn't that keen on the game as he took a beating in just two periods of action. He essentially pulled himself from the game prior to the third period, telling DeBoer that Cory Schneider deserved to get the experience to play at Yankee Stadium as well. Of course DeBoer might have made the decision anyway but Brodeur seemed to have no issues with leaving the game and that ice at that point.
What's interesting is how Sunday's result will affect things going forward for the Devils. Schneider has been playing more lately but has still started three fewer games than Brodeur this season. But now, after Brodeur was shelled, his save percentage has dipped to .899 while Schneider's up around .930. That's a massive difference, definitely one that can't be blamed away on bad ice at Yankee Stadium.
It's getting harder and harder to argue that Schneider doesn't deserve to be the goalie getting the bulk of the work, and that's with even ignoring what wasn't the most ideal conditions on Sunday.
Show Comments
Hide Comments
Preds captain has three more days to recover from a hit to the head before final begins next...

Replicating its Game 6 dominance -- everywhere but the scoreboard -- might not be easy for...

Ottawa recovers from a 7-0 loss in Game 5 to quiet Pittsburgh's offense
Series schedules, results and updates from the Eastern and Western conference finals

Out for the remainder of the postseason, Johansen is still part of the Predators' playoff...

Nashville refuses to back down despite taking fewer than 20 shots against fill-in goalie Jonathan...