Martin Brodeur Devils' starter, Cory Schneider 'fantastic 1A' to begin
Who will start in net for the Devils? Peter DeBoer is keeping the label on Martin Brodeur while calling Cory Schneider a 'fantastic 1A.'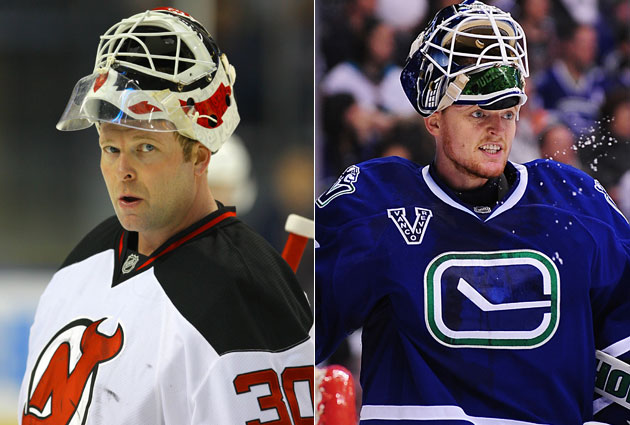 More NHL offseason: Rumors | Top 50 Free Agents | Buyout Tracker | Trades | Transactions
When the New Jersey Devils landed Cory Schneider in a trade at the draft from Vancouver, it was clear what their intention was for the future. Less clear was their plan for the present, specifically this upcoming season.
Schneider is a starting goalie in the NHL at this point of his career. The problem is, the Devils already have a starting goalie and he's kind of a legend in the Garden State. You might have heard of him; Martin Brodeur? He's past his prime but he's still there and it's hard to kick a guy like that to the curb.
So that's the dilemma that the trade placed upon Devils coach Peter DeBoer; how will he handle the goaltending situation? Who will be the starter? Speaking with Tom Gulitti of the Bergen Record, DeBoer made clear what the plan is in net.
"Those things sort themselves out. Marty's back. Marty's our starting goaltender and we've got a fantastic 1A in Cory Schneider."
OK, maybe he didn't make it so clear but you can tell who will at least start the first game for the Devils; Brodeur. The part about things sorting themselves out, though, would indicate that it's something that will remain in battle all season.
If it does become a situation of "may the best goalie win" then it's hard to think Schneider isn't going to take the role over as the season wears on. At this point he is at the top of his game while Marty is not. But again, there is the difficulty of navigating through Brodeur's legacy and what he means to the franchise.
DeBoer is taking the right approach on this one, Brodeur has earned and does deserve to at least carry the mantle into the season so long as the position remains open/fluid in a battle.
At some point Schneider is going to take the starting gig over in New Jersey, the question is just a matter of how soon because he won't start with it.
Show Comments
Hide Comments
Stevens was L.A.'s interim coach for four games in the 2011-12 season

Series schedules, results and updates from the first round of the Stanley Cup race

St. Louis, New York and Edmonton eked out victories that eliminated Minnesota, Montreal and...
Fresh off the Predators' sweep of the Blackhawks, Gnash is fired up for his team

A tougher opponent awaits either Toronto or Washington, and the Bruins hung on to beat Ott...

Linesman Don Henderson is reportedly seeking $10.25 million in damages from a January 2016...