Martin Brodeur says Devils got content, Lou Lamoriello disagrees
Martin Broduer and the Devils are going to miss the playoffs for the third time in four years. He says the team got content with being around .500 but Lou Lamoriello doesn't agree.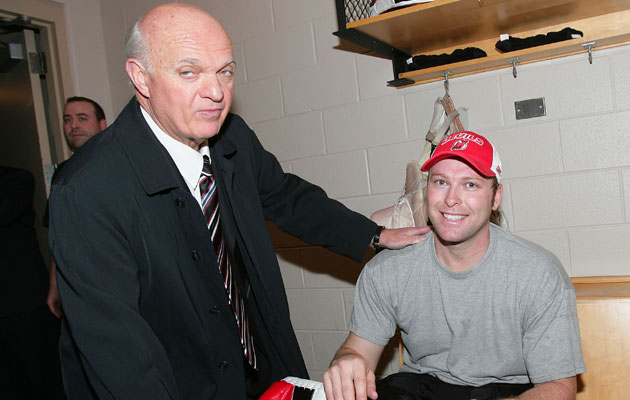 More NHL: Trades | Scores | Standings | League Leaders | Odds  | Power Rankings
It's the end of the season when those teams that missed the playoff cut are left to break down what went wrong and where they are going forward. It's not always fun.
Certainly it's not something the New Jersey Devils are that used to doing. One of the NHL's most successful teams over the past 20 years, they will not be headed to the playoffs for the third time in four seasons. That one season they did get in? They reached the Stanley Cup Final where they lost to the Kings.
Martin Brodeur, who could be in the final days of his magnificent Devils careeer, has become increasingly candid so when he sees something he thinks is a problem, he brings it up. Like this from Wednesday where he hinted an an organizational complacency. From Tom Gulitti at NorthJersey.com:
"We used to be a team that didn't hover over .500. That's something that only the last few years we've been content with being that," Brodeur said. "Even the year we made it all the way [to the Stanley Cup Finals], all year it's not like we gave ourselves a big cushion. We had to come back late to the middle of the season there to get a push to get in the playoffs. So, it's something that going forward, [Lamoriello's] got to make sure we get back to that, the organization to have more of an impact and not just in the regular season, but when you get into the playoffs.

"That means having solid regular seasons at the start of the regular season and no letdowns. Be a powerhouse like some of the teams are. A lot of teams this year did have some dips and that's why we're still alive -- barely. But there's still a small possibility. That's when you sit back right now and you look at what might happen tonight, you think of all these things."
That's quite a bit of candor from the Devils legend, certainly. It's also something that Lamoriello isn't onboard with.
Lou has been around the block a few times and doesn't see that in the Devils at all.
"I can assure you .500 isn't O.K. and I can assure you that it's not acceptable, but words are cheap," he said.

When I asked if he thought that the "hang around .500 and try to get in" mentality had pervaded his locker room at all, Lamoriello replied, ""I sure in hell hope not."

Lamoriello said it's also not acceptable to new owners Josh Harris and David Blitzer.

"The stability of this organization is there right now and mediocrity is not something that acceptable to them and that's probably what I like and respect the most about them, about the owners," he said.
Clearly Marty and Lou are not on the same page here. In fact, Lou shared what his version of mediocrity is and it's a higher standard than just getting in the playoffs. They are there to win Cups, not just make postseason trips.
And truth be told, the problem is probably much more than just not having the right mentality. That only goes so far, you have to have the talent to win too. They didn't score enough or, on some nights, just didn't get good enough goaltending. Much of that is on Marty himself this season with his .900 save percentage. So just maybe he's pinpointing the wrong problems.
Show Comments
Hide Comments
Series schedules, results and updates from the second round of the Stanley Cup race

Here's how to stay on top of all of the NHL's second-round playoff series, which begin Wed...

Series schedules, results and updates from the first round of the Stanley Cup race
Ottawa took a 3-2 decision to send Boston home, and Washington outlasted Toronto, 2-1

Stevens was L.A.'s interim coach for four games in the 2011-12 season

St. Louis, New York and Edmonton eked out victories that eliminated Minnesota, Montreal and...