Martin Brodeur starting at Yankee Stadium 'easy decision' for Devils
Martin Brodeur will start for the Devils at Yankee Stadium on Sunday, 'an easy decision' for head coach Peter DeBoer.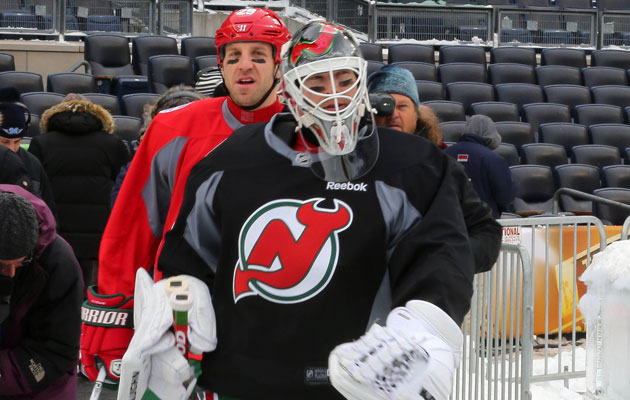 More NHL: Scores | Standings | League Leaders | Odds | Injuries | Power Rankings
Ever since the Devils acquired goaltender Cory Schneider last summer, it has left head coach Peter DeBoer with a lot of tough calls to make. It's hard to balance the net between a guy in the prime years of his career with a franchise legend and the most decorated goalie in the history of the sport. And that was always just for regular-season games.
Well Sunday is another regular-season game but not really. The Stadium Series will provide an incredibly unique stage on Sunday afternoon at Yankee Stadium against the Rangers. Just based on recent play, the call would seem to be easy to start Cory Schneider but in some cases you have to consider everything and all things considered, Martin Brodeur had to be the man.
So when the Devils make the march from the dugouts of Yankee Stadium, they will be led by the legend, Brodeur. For DeBoer, it wasn't even that hard of a decision to make.
"It really was an easy decision from a right-thing-to-do perspective," Devils coach Peter DeBoer said Saturday. "He's done so much in his career with the Devils and also he's played some excellent hockey for us this year."
These outdoor games are major events and in ways are simply celebrations of hockey. With that in mind, it's hard to question DeBoer's decision to start Brodeur. He hasn't been as good as Schneider this season but he's not a complete liability either. These are two very big points for the Devils but giving Brodeur his due was something that had to be considered, too.
For his part, Schneider seems to understand.
"I didn't go to [DeBoer], but he just pulled me aside and said that it has been 20 years in the making for Marty and it's a big moment for the organization to have him start," Schneider said. "It would be symbolic of what he's meant to this team. He's played well all season long, and I know the coaches want to get him into a game. We have all faith in him in the world that he can get the job done."
Schneider has been on a roll lately but from the sounds of it, DeBoer knew for quite a while that he was going to turn to Brodeur in this game. Schneider made him think a little about it with strong play of late but it remains Marty's game.
Brodeur is 13-10-4 this season in 27 starts with a .905 save percentage and 2.36 goals against average. Schneider is 9-9-7 with a .928 save percentage and 1.84 GAA.
Show Comments
Hide Comments
For first time since 2005-06, Edmonton is headed for a Stanley Cup run

With loss to Hurricanes, Detroit eliminated from postseason contention for first time since...

Flames-Capitals would pit underdogs vs. title favorites, while Pens-Oilers would showcase elite...
The Ducks are outshining their Pacific competition, while the Habs and Predators offer lots...

Big losses by the Sharks and Blackhawks have Washington back on top

On day he signs entry-level deal with Canucks, Boeser scores Vancouver's third goal in 4-2...