Matt Duchene for Game 6? 'We're going to take a serious look at it'
Will Matt Duchene be in the lineup for the Avalanche for Game 6? Avs coach Patrick Roy said they will seriously consider it.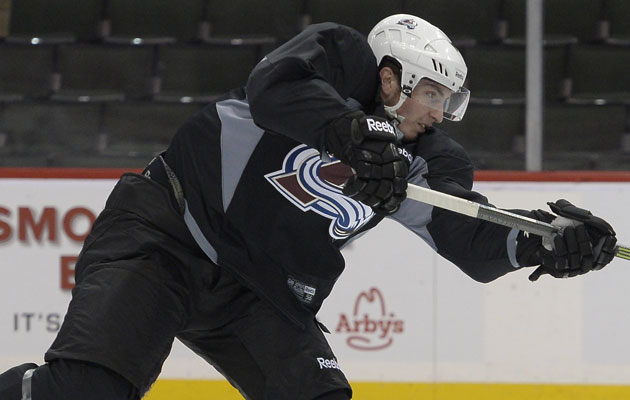 More Playoffs: Schedule, TV listings | Expert Picks | Bracket | Scores | Odds
The Colorado Avalanche squeeked by the Minnesota Wild at home in Game 5 on Saturday to move to the cusp of advancing on to the next round. Some say the toughest one to win is the last but the Avalanche could be getting some big reinforcements.
Matt Duchene has been out for weeks know with a knee injury suffered in the regular season. He was nevery ruled out for the whole first round but that seemed to be the indication.
However on Saturday in the Avalanche's morning skate, Duchene surprised by skating with the Avs in their line rushes. He didn't dress up for the game, but he could Monday in Minnesota.
"We're going to take a serious look at it," coach Patrick Roy said about Duchene playing in Game 6 (via Denver Post).
Duchene had a fantastic season for the Avalanche, leading them in points despite being limited with 70 in 71 games. When healthy, he has the speed to cause a lot of trouble for opposing defenses.
His absence has really allowed rookie Nathan MacKinnon the opportunity to excel and that he has in Duchene's role but it's not like the Avs wouldn't like to have him back as soon as possible obviously. Maybe with him back they could have a better offensive showing than the did in the first two games in Minnesota.
Plans for renovating KeyArena are now also being overseen by NHL-to-Seattle hopefuls

With Leslie Anderson selling the Rockets, there is newfound hope for hockey in Houston

Pittsburgh Penguins' repeat Conn Smythe Trophy winner has more than hockey on his athletic...
Russian outlets suggest Olympic participation is still on the table, but NHL has repeatedly...

Buffalo's forward suits up in Da Beauty League as he prepares to return to Sabres in 2017-...

Penguins goalie shows support for Thunder Bay's Gavin Currie