Max Talbot a proud new dad, gives son awesome middle name
Max Talbot and his wife Cynthia welcomed a baby boy to their family on Thursday with one awesome middle name; Jaxson Spartacus Talbot.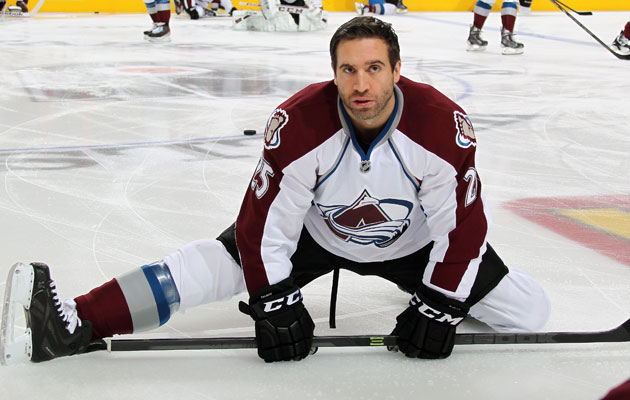 More NHL: Scores | Standings | League Leaders | Odds | Injuries | Power Rankings
Hockey players are notoriously tough. They are likened to warriors often with how they play through seemingly any injury. They don't get compared to Spartans as much but it's the same idea.
That's what makes the middle name Colorado Avalanche forward Max Talbot and his wife Cynthia gave to their newborn boy on Thursday so appropriate and dare I say awesome.
Jaxson Spartacus Talbot born this morning, according to Max Talbot teammate P.A. Parenteau. Patrick Roy said Talbot to play Fri vs PHO #Avs

— Mike Chambers (@MikeChambers) February 27, 2014
This will work out so well for Mom and Dad Talbot because you can't say Spartacus without yelling and, well, if your parents are ever using your middle name then they're likely yelling.
For the NHL Baby middle name power rankings, we'll leave it up to you to decide which tops the list, Spartacus or Carter Seven Seabrook. Both are pretty spectacular if you ask me.
Really, only a guy as cool as Talbot could pull this off.
Show Comments
Hide Comments
Series schedules, results and updates from the second round of the Stanley Cup race

Here's how to stay on top of all of the NHL's second-round playoff series, which begin Wed...

Series schedules, results and updates from the first round of the Stanley Cup race
Ottawa took a 3-2 decision to send Boston home, and Washington outlasted Toronto, 2-1

Stevens was L.A.'s interim coach for four games in the 2011-12 season

St. Louis, New York and Edmonton eked out victories that eliminated Minnesota, Montreal and...