Miikka Kiprusoff announces his retirement after 10 years in Calgary
After taking the summer to make sure he was 100 percent positive, Flames goalie Miikka Kiprusoff announced his retirement on Monday.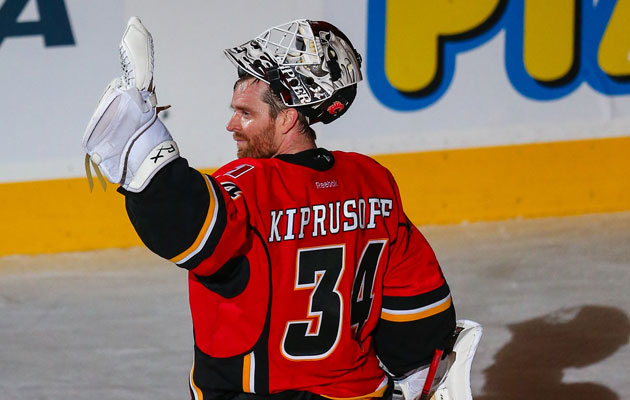 More NHL offseason: Rumors | Top 50 Free Agents | Buyout Tracker | Trades | Transactions
It took a while but on Monday Miikka Kiprusoff officially announced his retirement from the Calgary Flames. The move has been expected all summer but the announcement never actually came down until now.
"I decided to retire at the end of last season," Kiprusoff said. "I appreciated Jay Feaster and the Flames organization permitting me to take the summer to be 100 percent sure. It's an important decision for me personally, my family, the Flames organization and fans. Jay and I had conversations over the summer and nothing had changed for me and upon returning to Calgary last week, I once again spoke with Jay and confirmed with him that I would be retiring.
"I've been very lucky to have spent 10 years of my career in Calgary. There is no better place to live and play. I look forward to taking the next year with my family to enjoy everything wonderful about southern Alberta."
Just like that, another Calgary legend is gone. First it was Jarome Iginla and now Kiprusoff.
Kipper was in Calgary for 10 years but played just nine seasons (thanks lockout), nine very good seasons. He came to the Flames from San Jose where he was never the No. 1 guy and took off. In his first season in Calgary, Kiprusoff played just 38 regular-season games but had a league-best .933 save percentage. He continued it in the postseason starting 26 games and taking the Flames to the brink of a Cup.
Over the next seven seasons, Kiprusoff never played in fewer than 70 games in a single season, proving a fixture in the Calgary net, a very good fixture. Perhaps his best season came in 2005-06 when Kiprusoff had a league-best 2.07 GAA and took home the Vezina Trophy.
"Miikka Kiprusoff has been the backbone of the Calgary Flames since his arrival here in 2003, and every night for more than 70-nights per season, his magnificence between the pipes gave the team a chance to win," GM Jay Feaster said. "He inspired hope and confidence, and he made those around him better players as a result of his brilliance. Miikka will take his place in the pantheon of great NHL goaltenders, and his place in Flames' history is secure. He will be missed by players, teammates and fans, and we wish him all the best in his retirement."
Now with Kiprusoff officially stepping away, the Flames have a pretty gaping hole in net. They signed Karri Ramo for two seasons and $5.5 million this summer to presumably take the starting spot but it's going to remain a position of some concern, especially if the next goalies are held up to Kipper's standards.
At least the fans in Calgary had a chance to give Kiprusoff a proper sendoff last season.
Show Comments
Hide Comments
Series schedules, results and updates from the second round of the Stanley Cup race

St. Louis connected on one of five power plays to tie the series while Anaheim loses again...

Ottawa's defense came up big in Game 1 to beat New York, and the Penguins beat the Capitals...
Subban had three points in Nashville's 4-3 win over St. Louis in Game 1, while Edmonton dropped...

Washington and Pittsburgh figure to go neck and neck, as do Anaheim and Edmonton

Cassidy went 18-8-1 after replacing Claude Julien in 2016-17