Mike Green has awful first period, Maria Kirilenko not impressed
Mike Green took 18 minutes in penalties leading to two goals against and was on the ice for a third in the opening 12 minutes. Alex Ovechkin's fiancee wasn't impressed.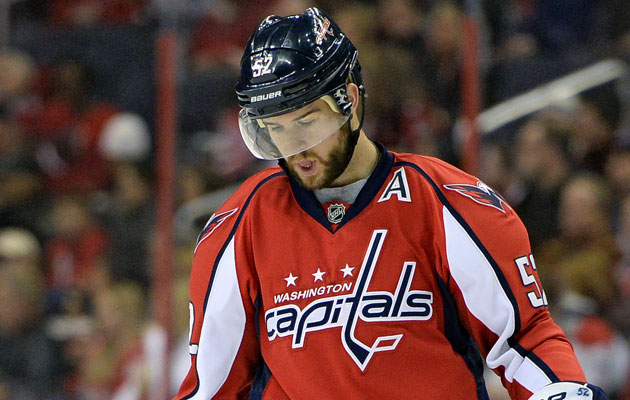 More NHL: Scores | Standings | League Leaders | Odds | Injuries | Power Rankings
Washington Capitals defenseman Mike Green had one of the roughest periods you can imagine on Tuesday night in a game against the Lightning.
In less than 12 minutes of play he racked up 18 minutes in penalties. No, he didn't drop his gloves to go for a fight either. In his opening six shifts Green drew a double-minor for high-sticking, took a minor for tripping and then another minor for once again high-sticking. To top it all off he earned a 10-minute misconduct for his response after the third called penalty.
Oh, and let's not forget that two of the power plays for the Lightning resulted in goals, he was credited with a giveaway and Green was on the ice for a third Tampa Bay goal. Other than that Mrs. Lincoln, how was the play?
Don't think the Caps fans didn't notice. Before taking the second high-sticking penalty, Green was booed when he touched the puck. It was that kind of night.
In fact it was so bad that even tennis player and fiancee of Capitals captain Alex Ovechkin Maria Kirilenko couldn't help herself on Twitter.
Is Mike Green going for the record tonight??? hellooooooooo

— Maria Kirilenko (@mkirilenko) December 11, 2013
While I'm not sure if Green was actually going for it, he set it, at least his own personal record. Before Tuesday night Green had never taken more than seven PIM in a single game. He came close to tripling that in just over half of a period. Really he achieved all of this in just 3:31 because that's how much he actually saw the ice in the opening frame.
Periods don't get much worse than that.
Show Comments
Hide Comments
Series schedules, results and updates from the second round of the Stanley Cup race

New Jersey claims No. 1 draft pick after having an 8.5 percent chance of earning the top s...

Ottawa takes a 2-0 lead over New York, and Pittsburgh does the same against Washington
St. Louis connected on one of five power plays to tie the series while Anaheim loses again...

Ottawa's defense came up big in Game 1 to beat New York, and the Penguins beat the Capitals...

Subban had three points in Nashville's 4-3 win over St. Louis in Game 1, while Edmonton dropped...