Mike Richards, Andrew Ladd lead teams in Winnipeg street hockey game
Mike Richards and Andrew Ladd helped organize a street hockey game in Winnipeg. Sounds like a good way to spend a Tuesday evening.
With the NHL lockout, what's a player supposed to do? How about playing spur-of-the-moment outdoor hockey games in the freezing temperatures of Winnipeg?
On Tuesday, Mike Richards of the Kings -- who hails from Ontario -- and the captain of the Winnipeg Jets, Andrew Ladd, put out the challenges to each other and the people of Winnipeg for an outdoor hockey game at the Forks at 4 p.m.
I'll be taking on @mrichie_10's team at 4PM at the Forks. Re-opening the wound from 2010. Should I bring my ring? Who's in?

— Andrew Ladd (@aladd16) November 13, 2012
Seeing how it's Winnipeg that we're talking about, tons of people showed up. For a little bit, NHLers were playing in front of the fervent fans (or in some cases playing with the fervent fans) of the Peg as if the lockout never happened. Even fellow Jets players Jim Slater and Mark Stuart also came for the fun.
Of course they weren't skating, and they were playing with a ball instead of a puck. It wasn't exactly NHL hockey, but it was an OK substitute.
It wasn't exactly the same roller hockey we saw in Wayne's World either; it might have been better. Hundreds of fans mobilized, some ready to play, and enjoyed a day of hockey without cars passing through. In the end, Ladd's team won, much to the delight of the hometown spectators I'm sure.
"I didn't know what to expect, but when you say hockey in Winnipeg, you expect big things, and obviously this turned out really good," Slater told the Winnipeg Sun (where you can see additional footage). Sure looks that way.
"The fans are missing hockey just as much as we are," Richards said. "We're not only players in the game, but fans of the game. We miss being around the guys and around competitive hockey. Not being around that for a long period of time, you start missing it."
A similar street game was thrown together earlier during this lockout by the same TSN personality, Cabbie, who was behind the Winnipeg game. By my count that leaves five more Canadian cities where a game should be held. You won't have to worry about a lack of response from the city/fans in each of those markets.
What a cool scene. Here are some photos from the game via Zach Wolf and The Wandering Lens.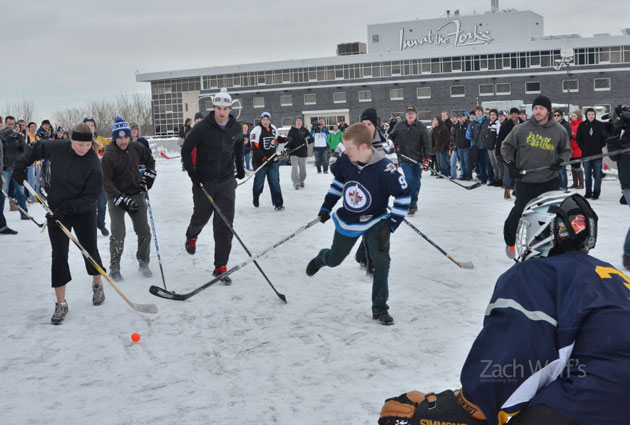 Ladd and Richards enjoy some street ball in Winnipeg. (Zach Wolf, The Wandering Lens)
H/t to Backhand Shelf, Puck Daddy
For more hockey news, rumors and analysis, follow @EyeOnHockey and @StubitsCBS on Twitter and like us on Facebook.
From Jonathan Drouin to Artemi Panarin, here's a look at the biggest trades of the offseason...

Pittsburgh sits atop them all as the repeat champs, while Nashville rises up after its big...

Islanders could also be loading up for scoring talent, and Vegas has plenty of D-men to se...
Fired by Dallas this offseason, Ruff is expected to replace Jeff Beukeboom

Even without a can't-miss prospect, the first round features a handful of solid center pic...

Casey Mittelstadt goes off the board in the top 10 picks of the 2017 NHL Entry Draft