Mike Smith: 'Not worth it' to bring family to Sochi over safety concerns
Coyotes goalie Mike Smith, who will represent Canada, is not going to bring his family to Sochi over security concerns. Other players are a little more comfortable, though.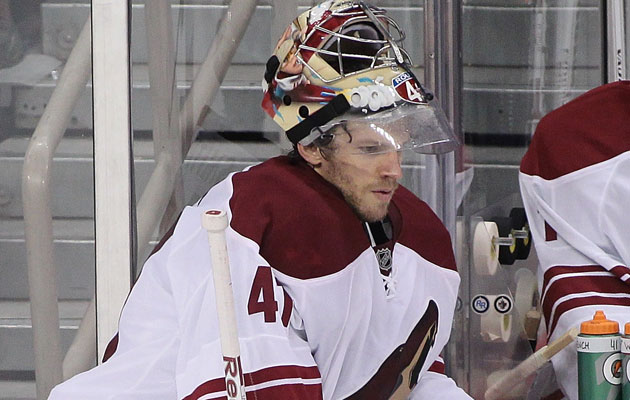 More NHL: Scores | Standings | League Leaders | Odds | Injuries | Power Rankings
Competing in the Olympics is a tremendous honor for any athlete and it's more than understandable that athletes want to share their special moment with their families by their side.
However security concerns in Russia are going to hold some athletes back from bring their families to Sochi with them. One of those athletes is Canadian goaltender Mike Smith, who plays in the NHL for the Phoenix Coyotes.
Smith, whose wife was an Olympian for Canada as a skiier in 2006, told Todd Walsh of Fox Sports Arizona on Wednesday that his family will be staying back in North America while he represents Canada.
"I think it's hard not to think about it. With Brigitte having gone to the Olympics before and me having two young kids and she's also expecting No. 3. They're not going to go. I just think it's not worth it, it's not worth it for myself thinking about is she OK when I'm not with her? It's just something that's unfortunate but it's just the way it is."
Truly it's a shame that the unrest and security concerns in Russia are too great for Smith to bring his family. Now granted, Smith is likely not going to play as he's expected to be the third-string goalie but that doesn't really matter, he's going to be an Olympian. That's something worth celebrating with your family regardless.
Smith said that he's sure things will be fine at the Olympic Village but it's frustrating to have to worry about anything of this nature. Can't say he's wrong.
The security concerns aren't going to prevent other players from bringing their loved ones to Sochi, though, players like American Patrick Kane.
Patrick Kane said his mom, sister and girlfriend will be going to the Olympics with him. #Blackhawks

— Tracey Myers (@TramyersCSN) January 22, 2014
Further to that, Sean Gentille of The Sporting News spoke with Sidney Crosby and Max Pacioretty who both aren't too concerned with all of the security measures being put in place.
A recent bomb in Volgograd that killed 34 people has added to the safety concerns as well as threats against the Olympics, threats that are being labeled as not credible. Still, with the unrest in the area, it's sure to have nerves on edge and will be a story throughout the Sochi Olympics. Let's hope it's a story that doesn't amount to anything more than safety concerns.
S/t PHT
The league shoots down a report that NHL players could still be permitted to go to the Oly...

The 45-year-old forward remains unsigned but has shown little desire to hang up the skates

Pittsburgh also has been linked to Matt Duchene and could be in the mix for Tyler Bozak
Nashville extends its 24-year-old restricted free agent with what could be bargain numbers

Calgary forward is all for playing for the Flames, but he also likes the idea of going to...

Plans for renovating KeyArena are now also being overseen by NHL-to-Seattle hopefuls