Mikhail Grabovski upset with buyout, rips 'idiot' Leafs coach
Mikhail Grabovski wasn't happy with the Maple Leafs waiving him and he bit back, ripping Toronto coach Randy Carlyle.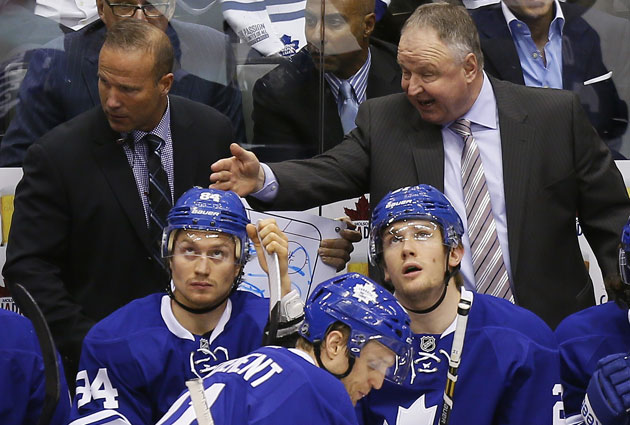 More NHL offseason: Rumors | Top 50 free Agents | Buyout Tracker | Trades | Transactions
On Thursday the Toronto Maple Leafs surprised a lot of people when they waived center Mikhail Grabovski. The purpose was to buy out the final four seasons of his five-year contract that has a $5.5 million cap hit.
Grabovski became a candidate for the buyout after he had what some considered a disappointing season. It was the first year of his new contract and in the 48-game season he had only nine goals with seven assists. That's not quite what you expect from a man with that kind of salary.
No matter, the move didn't please Grabovski -- at all. He signed a five-year deal in Toronto presumably because he wanted to continue to play in Toronto and now he won't. And he took to TSN 1050 with Jason Siegel to explain the big problem; it wasn't him, it was coach Randy Carlyle.
He didn't hold back.
That's a lot of beeps. I hope they were on seven-second delay.
Since it is kind of hard to hear what he said with a combination of the beeps, the phone and his accent, Siegel provided a transcript of the money quotes on the TSN site.
"Of course I feel [expletive] sad," he continued in a lengthy conversation, minutes later, "I played [expletive] five years here. I'm supposed to feel upset about that. I loved it [here]. Toronto fans are one of the best fans in the world."

"I play in the [expletive] Russian KHL, I make lots of [expletive] points and what's going to happen? He make me [expletive] play on the fourth line and he put me in the playoffs on the fourth line and third line again," Grabovski spewed. "Yeah, I don't score goals. I need to work more about that. I know that. But if you feel support from your coach [you'll find success]. I don't feel any support from this [expletive] idiot."
To be clear, that "[expletive] idiot" he is referring to is Carlyle. As Grabovski pointed out, he's not a fourth-line center and it's tough to score from that low on the depth chart.
Grabovski might have wanted to continue playing in Toronto but now he'll have his chance to get away from that "[expletive] idiot" in free agency. He's still a very talented player who, in the right circumstances, should be very productive. He's going to be one of the more coveted players, one of the better talents in a pretty weak free agent class.
Russian outlets suggest Olympic participation is still on the table, but NHL has repeatedly...

Buffalo's forward suits up in Da Beauty League as he prepares to return to Sabres in 2017-...

Penguins goalie shows support for Thunder Bay's Gavin Currie
Sports Illustrated's 2017 ranking puts the two hockey stars in the top 15 of stylish athle...

The former Blues and Capitals defenseman will wear No. 22 in the Big Apple

New York's captain appears set to play out the final year of his contract in 2017-18