Milan Hejduk officially announces retirement after 14 seasons with Avs
After 14 NHL seasons all spent with the Colorado Avalanche, Milan Hejduk officially called it a career on Monday.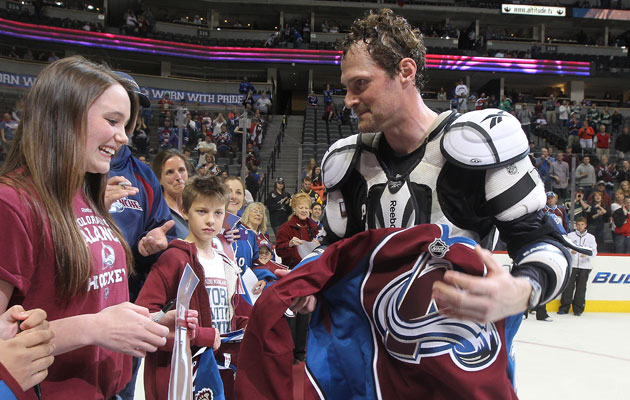 More NHL: Scores | Standings | League Leaders | Odds | Injuries | Power Rankings
Milan Hejduk officially called it a career on Monday, announcing his retirement after 14 NHL seasons with the Colorado Avalanche.
Hejduk hasn't played since appearing in 29 games in the 2013 season for the Avalanche, scoring four goals and seven assists. He didn't get a new deal and waited a while, mulling his options, before hanging up his skates.
"I was fortunate to play many years at this level with a great organization and unbelievable teammates," Hejduk said. "I realized my lifelong dream of not only playing in the NHL but winning a Stanley Cup. My family and I are proud to call Denver home and are enjoying our time together."
Hejduk joined the Avalanche in 1998-99, joining them right in the midst of their championship era. He had 23 points in 23 postseason games in 2000-01, helping the Avalanche to their second Stanley Cup (the first came just before Hejduk joined the team). In his prime, Hejduk was one of Colorado's best.
"Milan was one of the most humble players I ever had the privilege of competing with," Avalanche executive Joe Sakic said. "On the ice, he had one of the quickest and smoothest hands of any teammate I ever played with. His release, along with his hockey sense and vision, made him one of the premier goal scorers in the NHL during his prime. Milan was a true winner and would do anything he could to help our team win. He was a quiet leader who led by example and always represented this organization and himself with class."
A three-time All-Star, Hejduk won the Rocket Richard Trophy in 2002-03 with his league-high 50 goals to go with 48 assists. Five times he hit the 70-point mark in a season.
Hejduk was also a three-time Olympian, helping the Czech Republic to the gold medal in Nagano in 1998. He exits the game with the third most points ever among Czech-born players. His 805 points trail only Jaromir Jagr and Patrik Elias.
If it feels like this happened before it's because it kind of did. Hejduk said in November he was retiring but it wasn't official yet. Now it is.
Show Comments
Hide Comments
Series schedules, results and updates from the second round of the Stanley Cup race

New Jersey claims No. 1 draft pick after having an 8.5 percent chance of earning the top s...

Ottawa takes a 2-0 lead over New York, and Pittsburgh does the same against Washington
St. Louis connected on one of five power plays to tie the series while Anaheim loses again...

Ottawa's defense came up big in Game 1 to beat New York, and the Penguins beat the Capitals...

Subban had three points in Nashville's 4-3 win over St. Louis in Game 1, while Edmonton dropped...