Milan Lucic says he's still and always will be proud to be from Vancouver
Days after saying he was done defending his home of Vancouver after he said he was attacked, Milan Lucic says he's still proud to be from there and always will be.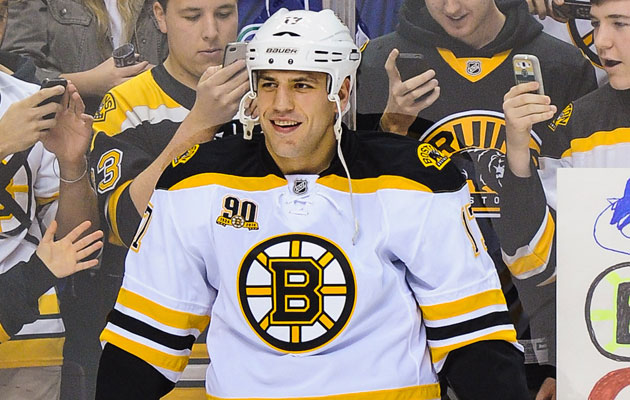 More NHL: Scores | Standings | League Leaders | Odds | Injuries | Power Rankings
Earlier this week, Boston Bruins forward Milan Lucic was involved in an altercation outside of a bar in downtown Vancouver after the Bruins had played the Canucks. The word that Lucic used to describe the altercation was an attack, of which he was the victim.
In explaining what happened to the media, he had some harsh words for Vancouver, which is his hometown. With this incident being the most recent in a series of issues he has encountered back in Vancouver, he said that he had "no reason left to defend my city and the people in my city. I'm disgusted and outraged."
It was somewhat extreme but completely understandable given all that Lucic has faced back in Vancouver since the 2011 Stanley Cup Final. Well on Wednesday he backtracked a bit in a released statement.
"This has been a very difficult week for me given the recent events that took place in my hometown of Vancouver. As I have had more time to think I want to make it clear that regardless of what has happened, I am still -- and always will be -- proud to be from there. It is home. While the actions of a few individuals have deeply upset me and will impact the time I spend downtown going forward, I will not let those incidents diminish the love and pride I have for the city as a whole. This will be my final comment on this subject."
In other words: He just can't quit you, Vancouver.
As we all know, sometimes we can say things in the heat of the moment we don't exactly intend. Lucic had reason to be upset and feel frustrated by the way he gets treated back in Vancouver. Again, it was a fair sentiment even if harsh.
Hopefully this incident will the last one and Lucic can at least feel comfortable when he wants to go home moving forward. Just because he plays professionally for a team in another city doesn't mean he should be treated like a turncoat or an exile.
Plans for renovating KeyArena are now also being overseen by NHL-to-Seattle hopefuls

With Leslie Anderson selling the Rockets, there is newfound hope for hockey in Houston

Pittsburgh Penguins' repeat Conn Smythe Trophy winner has more than hockey on his athletic...
Russian outlets suggest Olympic participation is still on the table, but NHL has repeatedly...

Buffalo's forward suits up in Da Beauty League as he prepares to return to Sabres in 2017-...

Penguins goalie shows support for Thunder Bay's Gavin Currie