New coach Ron Rolston leads culture change for the Buffalo Sabres
Currently working as Buffalo's head coach on an interim basis, the odds of Ron Rolston remaining in charge beyond this spring might not be particularly high. But the style of hockey he preaches appears to mesh well with Regier's expensive, previously underperforming roster.
by

Eye on Hockey staff

• 3 min read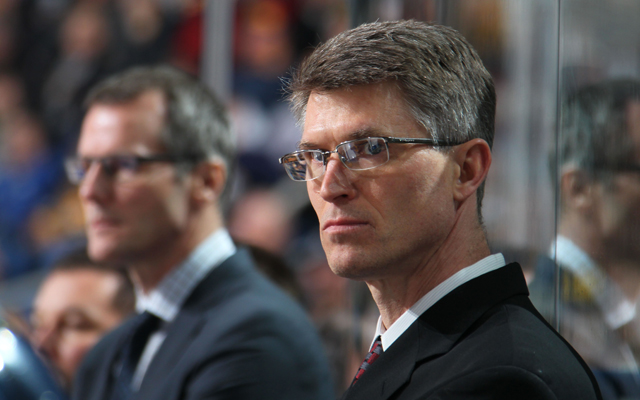 By Andrew Hirsh
More NHL: Scores | Standings | Odds | Fight-O-Meter | League Leaders | Rumors

Lindy Ruff is not the Buffalo Sabres coach for the first time since 1997 and for everyone in the organization, this season is now in a full transition phase. And the man leading the Sabres into this fresh chapter -- at least for the time being -- may possess the kind of hockey mind needed to recreate a winning culture: 46-year-old Ron Rolston.  
Currently working as Buffalo's head coach on an interim basis, the odds of Rolston remaining in charge beyond this spring may not be particularly high. But the style of hockey he preaches appears to mesh well with GM Darcy Regier's expensive, previously underperforming roster.
"Ron's come in and really reiterated the strengths in our system, especially defensively," Steve Ott said. "We're making smarter plays, working off each other better. The little details of the game matter more now.
 "We've definitely seen some players here improve under Rolston. He's brought fresh ideas that have helped a lot of guys out."
Coming to the Sabres from their AHL affiliate, the Rochester Americans, Rolston brings a strong emphasis on the X's and O's of the game. Rather than donning hockey mitts during Tuesday's morning skate at PNC Arena, as coaches typically do, he wore workman gloves. Why? So he can easily write on his whiteboard-- something he does just about every chance he gets.
"He's always drawing on that board," Ott said with a laugh. "He's a real smart hockey man. He's really meticulous on the right structure of the game, and it makes it a lot easier for players to play structuralized and smart.
"We're definitely benefiting from him being here."
While some current Sabres players remain somewhat mystified by the departure of Ruff, the clubhouse has also embraced Rolston's methodology, including Mike Weber.  
"Coach has us sticking to the game plan, never straying from the game plan," said the young blue-liner. "He gets things across differently than Lindy did."
The Sabres didn't look very sharp against the Carolina Hurricanes on Tuesday -- falling by the score of 4-3 -- but their showing is an outlier compared to how they've performed of late. Buffalo earned seven of eight possible points in their previous four contests, including an inspiring shootout victory over New Jersey.
And while their loss to the Canes was sloppy in many respects, they generated their fair share of chances, putting 40 shots on goal to Carolina's 28. Had it not been for the stellar net minding of youngster Justin Peters, this game could have turned out very differently.
"We've been seeing a process here over the last couple of weeks, and we've been getting better every single day," Ott added. "Even tonight, we have a lot of good things to look back on and build on."
Despite such a slow start to the season, the Sabres 3-1-1 stretch has them thinking about the playoffs. While some may roll their eyes at the thought of them clawing their way into the top eight of the Eastern Conference, it's certainly achievable if they can build on their recent success.
Still, a lot of work needs to be done before the postseason can become a realistic objective for this team.
"The playoffs are our goal, but before we can jump to that we have to play more consistent hockey," Rolston said. "We're in a situation where we're putting more periods together. There's a lot of positive things going."
Heading into Wednesday's action, the Sabres sit just four points out eighth in the parity-filled East. They have quite a few teams to leapfrog, as they currently reside in 13th in the conference and have played more games (24) than most; but the postseason is undoubtedly in reach.
"We absolutely believe we can make the playoffs," Ott concluded. "Carolina has definitely been one of the best teams in the league, and we're right there with the top teams."
Andrew Hirsh is the founder and managing editor of Sunbelt Hockey Journal. You can follow him on Twitter @andrewhirsh.
Show Comments
Hide Comments
Stevens was L.A.'s interim coach for four games in the 2011-12 season

Series schedules, results and updates from the first round of the Stanley Cup race

St. Louis, New York and Edmonton eked out victories that eliminated Minnesota, Montreal and...
Fresh off the Predators' sweep of the Blackhawks, Gnash is fired up for his team

A tougher opponent awaits either Toronto or Washington, and the Bruins hung on to beat Ott...

Linesman Don Henderson is reportedly seeking $10.25 million in damages from a January 2016...