New York station mixes up Devils with Islanders on newscast
Los Angeles news stations' follies in reporting on the L.A. Kings this postseason have been well documented. A New York station has one-upped them.
Anything you can do, we can do worse.
Los Angeles' follies in reporting on the L.A. Kings this postseason have been well documented. They have routinely been confused for the Sacramento Kings of the NBA when showing their logo and/or their mascot. That's bad.
But I think WABC in New York has topped them.
On the news broadcast the station put up a graphic talking about the Stanley Cup Final. They correctly had the Kings -- the right logo to boot! -- on the graphic, they just had the wrong one for the Devils. Way wrong one.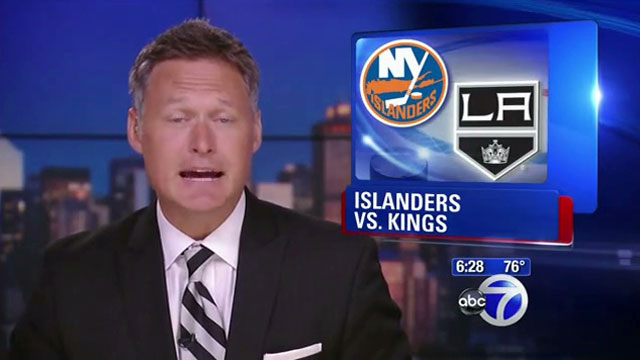 Isles fans wish this graphic were correct. (Deadspin)
So not only did they get the wrong logo for the local team in the Stanley Cup Final, but the wrong team altogether. And the worst? They confused the Devils with the Islanders -- Islanders! -- of all teams. Because, you know, the Isles are a threat to get to the Final every year of late.
For those keeping score at home, ABC was the only one of the four major network news stations in L.A. to keep their coverage of the Kings clean. Each of CBS, NBC and Fox had some forgettable moment. But thanks to their friends in New York, ABC's image has been sullied too.
American newscasters, we need to have a little talk about the NHL. It is a sport's league and it is watched and followed by a lot of people in this country. Please, spend a day, a few hours even, on a weekend and get to know just a little bit about the sport, especially if you work in a market with a hockey team.
For more hockey news, rumors and analysis, follow @EyeOnHockey and @BrianStubitsNHL on Twitter and like us on Facebook.
Pittsburgh sits atop them all as the repeat champs, while Nashville rises up after its big...

Islanders could also be loading up for scoring talent, and Vegas has plenty of D-men to se...

Fired by Dallas this offseason, Ruff is expected to replace Jeff Beukeboom
Even without a can't-miss prospect, the first round features a handful of solid center pic...

Casey Mittelstadt goes off the board in the top 10 picks of the 2017 NHL Entry Draft

New Jersey makes the Halifax Mooseheads star the first overall selection in this year's dr...