NHL All-Time Teams: Philadelphia Flyers
From the Broad Street Bullies to the Legion of Doom, the Flyers have had a lot of talent. Both eras are represented on the all-time team.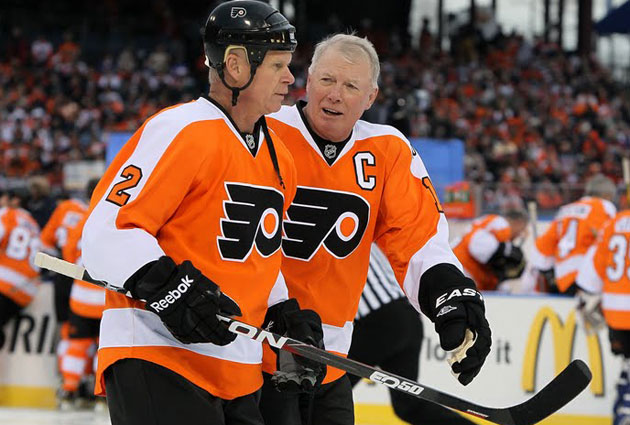 More NHL offseason: Rumors | Top 50 Free Agents | Buyout Tracker | Trades | Transactions
Ah, hockey in the summer, where things come to a grinding halt for about two months in between one long season and another. To fill the void we at Eye on Hockey thought it would be fun to make an all-time team for each of the 30 organizations in the NHL today.
The ground rules: The teams will consist of a center, two wings (regardless of which side), two defensemen and a goaltender. A player must have spent at least 200 games with a franchise to be considered. So Bobby Orr won't be on the Blackhawks' roster or Wayne Gretzky for St. Louis.

The Flyers are not an Original Six team, coming aboard in the 1960s. At times it can be easy to forget that as in some ways they have that feeling about them, as a long-established hockey power in a big, thriving market. Perhaps that's because they've been successful pretty much straight from the start and gave the franchise an identity in the early going as the Broad Street Bullies.
All along the Flyers have had some pretty excellent talent, something that continues today where GM Paul Holmgren seems to eye everybody in the league and gets about half of his wish list. From the Bullies to the Legion of Doom and everything in between, Philly has seen its share of quality hockey players over the years. That shouldn't be a surprise given the fact that the Flyers have been to the playoffs 16 of the past 18 seasons.
Bobby Clarke: This was one of the easiest selections for this Flyers team and even this wasn't that easy. That guy named Lindros was pretty spectacular in Philadelphia as well. But how can you say no to this face?
If that picture doesn't tell you as much, Clarke truly was the face of the best teams in Flyers history, the Broad Street Bullies. Really, he's the face of the Flyers franchise going back to when it began in 1967-68. He's the all-time leader in games played with 1,144. Every game in his career was spent in the orange and black of the Flyers.
A playmaking center before anything else, Clarke twice posted 89 assists in a season (1974-75 and '75-76) and is far and away the Flyers' all-time assists leader with 852 to go with his 358 goals, fourth most in team history. Overall that's better than a point-per-game pace as the only time he finished with fewer than 60 points in a season came as a rookie when he had only 46. To top it all off he won the Hart Trophy three times as the MVP, won the Masterton Trophy in 1971-72, the Ted Lindsay Award in 1972-73 and then the Selke Trophy as the top defensive forward in 1982-83 all while being one tough dude on the ice -- he is fourth in penalty minutes in team history. Quite the player.
Bill Barber: Yes, Barber was part of the Bullies but Barber was not a bully. In a way he was a perfect complement to those rough and tumble teams; a high-scoring winger with tons of talent but one who also wasn't afraid to get physical, it just wasn't his best asset.
Somebody had to be the beneficiary of all those Clarke assists and Barber was one of the biggest. Inducted into the Hall of Fame in 1990, Barber scored at least 40 goals five times in his career, netting 50 in 1975-76. He never racked up fewer than 54 points in a season; he was a consistently great player for the Flyers his whole career, all 903 games of it.
In addition to all that, you can thank Barber for being one of the driving forces behind diving in hockey. On second thought, let's not thank him for that one and say we did.
John LeClair: First there were the Bullies. In the 1990s came the Legion of Doom, an equally awesome nickname in hockey circles. There are plenty of guys who could potentially fill that spot but it just seems wrong to not have the Legion represented here and since Lindros is stuck behind Clarke, LeClair gets this spot here (Mikael Renberg wasn't much in the conversation).
Of course, it's not like he's undeserving. After LeClair arrived in Philadelphia from Montreal, he boosted his good scoring numbers to great ones. He had three straight seasons of at least 50 goals, five straight with at least 40 and that doesn't even include his first half-season in Philly when he had 25 goals in 37 games. He was a permanent fixture in the All-Star Game from 1996 to 2000.
Mark Howe: Here we have our first two-teamer in this series. Howe also appeared on the Whalers/Hurricanes roster where he had some monstrously productive seasons in terms of points. But it's not as if he was a slouch during his 10-season tenure in Philadelphia. In each of his first seven seasons as a Flyer he had at least 53 points so it shouldn't be a surprise to know that Howe leads all Flyers defensemen in points with 480, head and shoulders above the field. And while it's certainly a flawed stat, he's second all-time in Flyers history at a plus-349. No matter how you feel about the stat, that's impressive.
Even though Howe came to Philadelphia after the Bullies era and didn't help the Flyers to a Stanley Cup title, he's probably the best defenseman the Flyers ever had, all things considered. That is to say that there may have been better defensemen in the black and orange but with all of his accomplishments in Philly that also now include a Hall of Fame spot, he is almost assuredly the best in franchise history. That's why his number is in the rafters in Philly now (Photo: USATSI).
Eric Desjardins: I originally had Jimmy Watson, arguably the Flyers' best defensemen during their prime seasons in the 1970s, in this spot but Desjardins has the prerequisites that you need to make the list. He didn't start his career in Philly but he ended it there, coming over with John LeClair in a trade from Montreal for Mark Recchi. He then spent 10½ seasons in Philly, acting as the No. 1 guy for most of that time.
A two-time All-Star as a Flyer, Desjardins had the good fortune to play with the Legion of Doom in the '90s and put up some strong offensive numbers as a result. He actually topped out a little later though in 1999-2000 with 55 points on the strength of 41 assists. Not to mention he only had two seasons as a minus player (just barely), all while playing upwards of 27 minutes per game. The Flyers would love to have him around still, I'm sure.
Bernie Parent: Parent is neither the franchise leader in games played nor wins -- those both belong to Ron Hextall, though the difference is razor thin in both categories -- but still it's a pretty easy choice to put Parent in the net, even with Hextall's goal-scoring prowess.
How can you argue against Parent? He had two separate stints in Philadelphia, with the second being the best. He came back to Philly in time to backstop the Flyers to back-to-back Stanley Cup titles, earning the Vezina and Conn Smythe Trophies in both 1973-74 and '74-75, forever cementing himself into Flyers lore. His 47 wins in '73-74 were an NHL record until Martin Brodeur won 48 in 2006-07. His career came to an unfortunate, early end when a stick shattered his mask and damaged his vision but that was after an already stellar career and a great slogan in Philly.
Rick MacLeish, Chris Therien, Simon Gagne, Tim Kerr, Reggie Leach, Rod Brind'Amour, Joe Watson, Jimmy Watson, Mark Recchi, Eric Lindros, Gary Dornhoefer, Ron Hextall, Mikael Renberg, Bob Dailey, Andre Dupont, Brian Propp
Show Comments
Hide Comments
Series schedules, results and updates from the second round of the Stanley Cup race

Subban had three points in Nashville's 4-3 win over St. Louis in Game 1, while Edmonton dropped...

Washington and Pittsburgh figure to go neck and neck, as do Anaheim and Edmonton
Cassidy went 18-8-1 after replacing Claude Julien in 2016-17

With the playoff field cut in half, the stakes keep getting raised

Green has led Vancouver's AHL affiliate since 2013