NHL All-time teams: Washington Capitals
The Caps' all-time team stretches almost the life of the franchise with guys from the 80s, 90s and a Great Eight from today.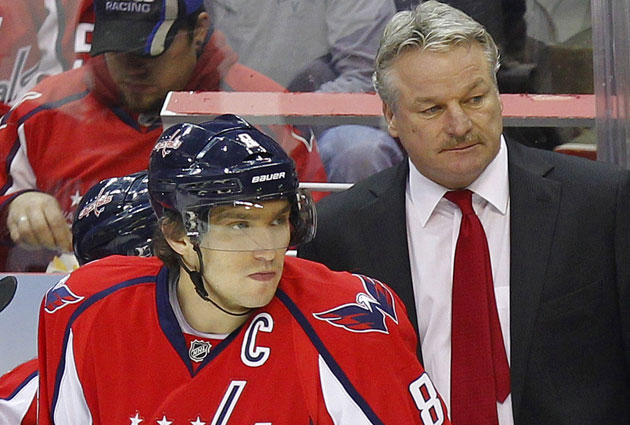 More NHL offseason: Rumors | Top 50 Free Agents | Buyout Tracker | Trades | Transactions
Ah, hockey in the summer, where things come to a grinding halt for about two months in between one long season and another. To fill the void we at Eye on Hockey thought it would be fun to make an all-time team for each of the 30 organizations in the NHL today.
The ground rules: The teams will consist of a center, two wings (regardless of which side), two defensemen and a goaltender. A player must have spent at least 200 games with a franchise to be considered. So Bobby Orr won't be on the Blackhawks' roster or Wayne Gretzky for St. Louis.

The Washington Capitals are one of those unlucky few franchises that came to life in more than 40 years ago but still hasn't experienced the joy of winning the Stanley Cup. They've come close, reaching the Final in 1997-98 and having some incredibly successful regular seasons in the past few years, but they've never been able to win that Cup. Or even win a game in the Cup Final.
Still, they have ebbed and flowed like a lot of franchises over time, getting off to a slow start as they missed the playoffs for eight straight seasons and then made the postseason in the next 14 seasons and 15 of 16. A dry spell in the a few years back helped them restock the shelves and now once again the Caps have been to the postseason six years in a row. You don't have those kinds of runs without having some really good players.
Wish I could say they've always had some great logos/sweaters, but alas ...
Dale Hunter: Overall, the Capitals have been relatively thin down the middle in franchise history so there isn't a vast array of options to choose from here. It came down really to either Hunter or Michael Pivonka. Even though Pivonka had more points in fewer games (they had an equal number of goals as Caps), we're going with Hunter. He was the captain for five years and one of those heart-and-soul guys for the franchise for a long time in Washington.
As a center, offensively speaking Hunter was a play-maker first. His 375 assists are good enough for third in franchise history. But as we all know, Hunter was about much more than just offense; he was one of the roughest guys in the game. Some would say dirtiest guys in the game. I don't think Pierre Turgeon would disagree.
Overall Hunter tallied 2,003 minutes in penalties with the Caps, most in franchise history.
Hunter returned to Washington briefly to serve as the coach in between Bruce Boudreau and Adam Oates, a tenure that was mostly forgettable. So instead Caps fans will remember Hunter for this ... The Goal.
Alex Ovechkin: When it's all said and done, it's very hard to imagine at this point that Ovechkin won't go down as the greatest player in Capitals history, if you don't consider him such already. The No. 1 overall pick in 2004 has been a super star since the moment he came to the NHL.
Ovechkin began his career with 52 goals and 54 assists as a rookie to of course win the Calder Trophy. He then won the Rocket Richard Trophy in back-to-back years with 65 goals in 2007-08 and 56 in 08-09. He also won the Hart Trophy as the league MVP in those years.
Ovechkin has taken loads of criticism in recent years, being accused of everything under the sun from lazy to washed up to a bad teammate and captain. Yet Ovechkin found his game again this past season when he switched wings and earned his third Hart Trophy. All that is missing now is the big kahuna, the Stanley Cup. Whether that ever comes or not, though, it won't take away from the electric player that Ovechkin is. There is a palpable uptick in excitement any time he touches the puck on the ice, especially when he's on the rush. Everybody is waiting to see if he can do this again.
It was plays like that which gave him national recognition and nicknames like Alexander the Great and The Great Eight.
Alex Ovechkin Peter Bondra: At least for now, Bondra is the most prolific scorer in Capitals history, a role that will soon be taken over by Ovechkin. Still, that won't take away from what Bondra was able to do in Washington, which was to score 472 goals and 825 points in 961 games as a Cap. (He did top the 500-goal mark as he finished his career with stops in Ottawa, Atlanta and Colorado.)
Bondra was never a play-maker, he was simply a guy who scored, and did that well. On two occasions Bondra led the NHL in scoring, one of those in the strike-shortened 1995 season when he had 34 goals in just 47 games. He also had 52 goals twice, in 1997-98 that total led the league. Bondra even kept scoring into the dead puck era, netting 45 goals in 2000-01 and 39 in 2001-02.
Bondra was the leader (in terms of production) for the one and only Capitals team to reach the Stanley Cup Final in 1997-98 and was a five-time All-Star in Washington, an impressive feat when you consider he was an eighth-round draft choice originally by the Caps. And that he got positive recognition while wearing this sweater.
Calle Johansson: The franchise leader in games played at 983, Johansson is atop a pretty good overall group of defenseman partly based on his longevity with the club but also just because he was a darn good player for a long time. He is still talked about in glowing terms in Washington, that's for sure.
A two-way defenseman, Johansson finds himself eighth on the franchise list in points with 474, the bulk of that coming from 361 assists in DC. Both of those marks are tops among defenseman in team history, again partly a product of the fact that he was there for so long. That and being a consistent 30-plus point guy all through his time in Washington. He had a career-high 56 points in 1991-92 with 14 goals and 42 assists and remained strong for the Caps through almost the entirety of his tenure in DC.
Today Johansson remains part of the Capitals organization, serving as an assistant coach on Adam Oates' bench. He is one of the great faces of the franchise and that's not going to change.
Rod Langway: Picking the second (or the first) defenseman wasn't easy as Scott Stevens and Sergei Gonchar also have to garner strong consideration. But it's hard to ignore the credentials that Langway has as a Capital, specifically the fact that he won not one but two Norris Trophies with the Caps, in 1982-83 and 83-84. Well that and the simple fact that the Caps had never reached the playoffs before Langway arrived and then never missed them while Langway was in Washington. He wore the C for the entire time in Washington as well.
The Secretary of Defense as he became known as was one of the strongest defensive players in the game, so strong that he was able to win those Norris Trophies despite not scoring a ton, a somewhat rarity for the award. The Capitals defense tightened up considerably when Langway arrived and it helped him to a franchise-best plus-117.
Now take in the glory of that mustache and sweater combination.
Olaf Kolzig: This isn't even a question, it's Kolzig and nobody else is close to him in the conversation. It's pretty much that simple.
Olie the Goalie played 711 games in Washington, taking over the starting role in 1997-98 in time to lead the Caps to the Stanley Cup Final and take the spotlight in Washington. He held the primary starting spot in Washington until 2007-08, picking up a Vezina Trophy along the way in 1999-2000.
His 711 games are 442 more than any other Caps goalie, his 301 wins nearly 200 more than Don Beaupre. His 35 shutouts are more than double anybody else's total and his .906 save percentage is second best in franchise history. To top it all off, he was quite the romantic.
Mike Gartner, Michael Pivonka, Mike Ridley, Dennis Maruk, Scott Stevens, Alexander Semin, Nicklas Backstrom, Bengt-Ake Gustafsson, Sergei Gonchar, Mike Green, Kevin Hatcher, Don Beaupre, Joe Juneau
Show Comments
Hide Comments
Ottawa's defense came up big in Game 1 to beat New York, and the Penguins beat the Capitals...

Series schedules, results and updates from the second round of the Stanley Cup race

Subban had three points in Nashville's 4-3 win over St. Louis in Game 1, while Edmonton dropped...
Washington and Pittsburgh figure to go neck and neck, as do Anaheim and Edmonton

Cassidy went 18-8-1 after replacing Claude Julien in 2016-17

With the playoff field cut in half, the stakes keep getting raised